Chinese Army Buys U.S. Computers, Helping PLA Modernize Info-Warfare
Charles R. Smith
Wednesday, Apr. 28, 2004
The Chinese Army has just completed a series of Information Warfare combat exercises and the results do not bode well for America.The Info-warfare Group Army, attached to the Beijing Military Area Command, launched a series of "Red Force v. Blue Force" exercises during April that showed that China could indeed score a success against a superior western Army.
According to the PLA Daily, the official media outlet for the Chinese People's Liberation Army, "the group army joined hands with the research institutes to develop a simulated communication confrontation training system by using computer network, multimedia and virtual technology."
"The "Red Army" launched several waves of attack by adopting different offensive tactics. "Electromagnetic killers" directed precision strikes at its adversary's (the "Blue Army") "soft" and "hard" targets, as a result, its adversary's communication systems were soon paralyzed," states the April 27th, 2004 issue of PLA Daily.
The Chinese Army has made it clear in its recent publications that western computer technology is critical for its modernization program.
"The symbol of the transformation will be a qualitative change of PLA's fighting power. The level of IT (Information Technology) application in armaments is the key factor in the transformation. The transformation of armaments, from scale production at the stage of mechanization to conceptual research, small serial production and keeping in reserve the capability of production at the stage of IT application, must be based on modern technologies, particularly on information technology," states a recent high level publication from the PLA Central Military Command.
Despite the growing clouds of war coming from Beijing, Washington appears to be unconcerned about the PLA use of American computer technology.
MADAM WU – QUEEN OF PLA SPY NETWORK
President Bush and Commerce Secretary Donald Evans met with Chinese Vice Premier Madam Wu Yi last week on trade issues such as advanced U.S. computer technology. Commerce Secretary Evans promised to ease curbs on exporting computers and other technology that could be used in Chinese weapons development.
Madam Wu later spoke at a dinner sponsored by the National Committee on U.S.-China Relations, the U.S. Chamber of Commerce and the U.S.-China Business Council. Wu stated that Vice President Dick Cheney raised the possibility of helping China construct nuclear power stations, during his recent visit to Beijing.
According to Wu, America has very advanced nuclear technologies and China "absolutely welcomes" a U.S. role in helping with development in that sector so long as the United States sticks to its commitments.
Wu also stated that China suffered big losses years ago when the U.S. government terminated satellite launch contracts that had been reached between American companies and the Chinese government.
MADAM WU AND COMPUTERS FOR WAR
Madam Wu should know about "big losses" because her rise to power inside the communist government is based on espionage and lies. Madam Wu, in her former post as minister of MOFTEC – (Ministry of Foreign Trade & Economic Cooperation) oversaw the export of advanced U.S. computers directly to PLA weapons labs.
In December 1997, U.S. Commerce officials sought permission to inspect Xian Jiatong University prior to the export of a high performance computer made by Digital Corp. (DEC). Commerce inspectors wanted to verify the Chinese university was not in violation of U.S. export control laws but were denied access by MOFTEC.
In a letter written to Liu Hu, Director General for Science and Technology of MOFTEC, U.S. Commerce Department officials noted that they were not given permission to perform the license check.
"We were disappointed at MOFTEC's decision not to allow an on-site end use check and refusal to permit an Embassy representative to travel to Xian Jiatong University at the university's invitation…. Because we were unable to work through MOFTEC, we gathered information on the end-user through other sources and have approved the license."
It remains undisclosed what the officials meant by "other sources," but it appears the Department of Commerce is only too willing to help Beijing save face rather than comply with a congressionally mandated law requiring inspections be performed.
In addition, the December 1997 letter to MOFTEC's Liu Hu reminded the Chinese government of the requirements that U.S. representatives do a "post" export follow-up inspection.
However, U.S. Commerce officials were reduced to seeking "help" from the Chinese communist government in performing the post export inspections and sought another meeting to discuss the issue.
U.S. intelligence sources confirmed that the computer exported to Xian is being used by the PLA to perform biological and chemical weapons research.
MADAM WU VIOLATED TRADE TREATIES
In January 1998 the Commerce Department again contacted the Chinese government, seeking approval for verification inspections. The Commerce Department arranged for Bureau of Export Administration Chief Counsel, Hoyt Zia, to meet with China's MOFTEC to discuss the denied pre and post export checks on U.S. super-computers.
Commerce counsel Hoyt Zia's meeting in January 1998 with China's MOFTEC official, Zhou Ruojun, failed to obtain Chinese permission for the inspections. Commerce documentation of the meeting noted that the Chinese denied all end use inspection checks. Chinese MOFTEC officials argued that there "was no formal agreement between the two governments on conducting these checks."
The Chinese delegation also claimed that a 1983 U.S. trade letter agreeing to the checks "was unsigned" in the Commerce December 1997 complaint letter. MOFTEC's Zhou considered the matter "inappropriate" because the letter was unsigned.
Things have not changed since 1998. A Feb. 2004 report from the General Accounting Office (GAO) stated that China still does not adhere to treaties it has signed and continues to violate agreements it promised to uphold.
According to the GAO report, China is still refusing to allow inspections of exported "dual use" equipment to verify that they are not being used for military purposes. Dual use items require a license for export and verification inspections by U.S. law because they can be used for military purposes.
MADAM WU AND NUCLEAR ESPIONAGE
The Xian computer is not the only time the Madam Wu led MOFTEC in successfully acquiring advanced U.S. computers. In 1996, American computer maker SUN Computer Corp. exported a super-computer directly to a Chinese Army nuclear weapons lab with the help of MOFTEC and Madam Wu.
According to the Cox report, the Chinese Ministry of Foreign Trade and Economic Cooperation (MOFTEC) explained that the actual buyer of the computer was the "Yuanwang Corporation" and that Sun was aware of "this corporation's PRC military ties."
Sun would later pay a record fine for knowingly exporting the super-computer to a PLA nuclear weapons lab.
Madam Wu made sure that MOFTEC was directly in business with the Chinese military. A 1999 special congressional report states that MOFTEC assisted Chinese military espionage operations by erecting front companies owned by the People's Liberation Army MID or Military Intelligence Department.
"China Resources Enterprise [CRE]… is the commercial arm of China's Ministry of Trade and Economic Co-operation [MOFTEC]," note the Congressional report. "In its investigation into China's attempts to influence the 1996 U.S. presidential campaign, the U.S. Senate Government Affairs Committee identified CRE as a conduit for 'espionage – economic, political and military – for China.' Committee Chairman, Senator Fred Thompson said that CRE has 'geopolitical purposes. Kind of like a smiling tiger; it might look friendly, but it's very dangerous.'"
MADAM WU PROMOTED
Madam Wu obtained a promotion for her success and the smiling tiger that is the Chinese Army continues to import U.S. made computers for war. Madam Wu is now Vice Premier and the PLA is hosting an arms trade show with U.S. companies in attendance.
The exhibition of "China Military Logistics 2004" recently opened in the Beijing Exhibition Center. The exhibition involves products of over 170 manufacturers from 25 countries and 140-plus domestic producers.
General Liao Xilong, member of the Central Military Commission, director of the General Logistics Department of the PLA attended the opening ceremony and visited the exhibition.
"The exhibits cover all kinds of logistics equipment and involve several technical fields. The logistics equipment exhibited by the domestic participants are mainly new backbone equipment of the PLA, reflecting the features of systematic, matching, high-tech and suitable for field war. Exhibits from the US, UK, Germany and Russia are also rather modern and systematic, and suitable for field war," states the PLA Daily.
"For example, the visible logistics information technology equipment from the U.S. and the beach POL supply system represent the advanced level of the world's military logistics equipment technology."
CLINTON'S COMMERCE DEPT. FUMBLES EXPORTS TO CHINA
CHINESE ARMY BUYS U.S. COMPUTERS
MADAM WU – QUEEN OF SPIES


CLICK HERE TO READ THE 4/28/04 ARTICLE ON NEWSMAX.COM

---
ALL DOCUMENTS FORCED FROM THE U.S. COMMERCE DEPT.

PLA MAJOR GENERAL DENG'S BUSINESS CARD

---
---
MOFTEC MINISTER MADAM WU YI


---
CHINESE ARMY GENERALS AT DEPT. OF ENERGY
---
GENERAL DING INVITES U.S. BUSINESSES TO WORK WITH THE PLA
---
SUN SELLS A SUPER-COMPUTER TO THE CHINESE ARMY
---
GENERAL DING & SUPER-COMPUTERS FOR CHINESE NUCLEAR WEAPON LABS
"As a matter of public policy, the Clinton administration is dedicated to defense conversion in China just as in Russia and in the United States. Indeed, Defense Secretary William Perry helped establish a joint Sino-American commission on defense conversion, and during his October 1994 visit to Peking, he promised his Chinese partners extensive U.S. aid — including a Cray supercomputer to be used directly by the Chinese nuclear weapons establishment to help design newer and safer nukes. Perry's Chinese co-chair is none other than Lt. Gen. Ding"
---
GREAT WALL BANNED BECAUSE OF NUKE TRANSFER TO PAKISTAN
---
U.S. SELLS COMPUTERS TO GREAT WALL
---
MORE INFORMATION –
COMPUTER EXECS VISIT CLINTON ON SUPER-COMPUTER EXPORTS.

---
---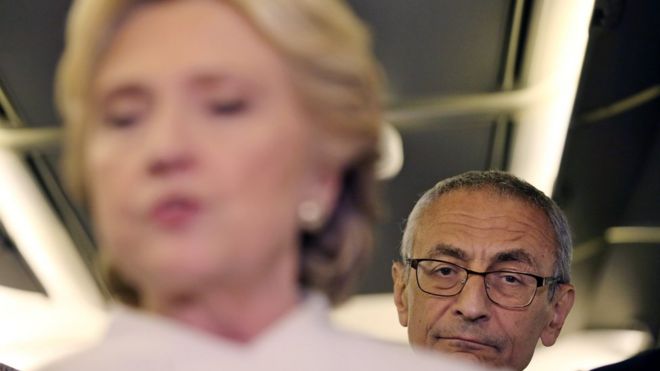 Dear John: Fake Facts from a Clinton Pro
Charles R. Smith
Wednesday, Oct. 19, 2005
Former Clinton Chief of Staff John Podesta recently wrote a scathing article about former FBI Director Louis J. Freeh. Freeh made some harsh comments about his life at the FBI during the Clinton scandal years, and Podesta simply could not resist the knee-jerk urge to defend his ex-boss.
Those who know me well also know that I have little love for the former FBI Director. His tenure at the helm of the bureau was a disaster. Freeh can best be described as a "Luddite" in terms of his understanding of modern technology. I am almost certain that his new book was hand-written with a sharp quill and a bottle of ink.
However, my opinion of John Podesta and his former boss sinks to depths well below that of the former FBI Director. Thus, when John Podesta accused Freeh of playing fast and loose with the facts, I simply could not resist the urge to test his skill with the truth.
Podesta's article may be written on a modern word processor, but it is inaccurate on one critical issue. Podesta claims, "Freeh's account of the unfolding of the Khobar Towers investigation is also riddled with distortions and inaccuracies. For example, Freeh writes as if no acknowledgment of Iranian involvement in the bombing was made until after George W. Bush came into office," noted Podesta in his Washington Post op-ed.
"This is false: The Clinton administration publicly and unequivocally placed blame on senior Iranian officials. Deputy Attorney General Eric Holder made this point at a press conference on October 4, 1999," said Podesta.
Unfortunately for Podesta, his assertion that Eric Holder placed the blame on Iran on October 4, 1999, just does not hold water. According to the official release from the Department of Justice for October 4, 1999, Holder avoided any accusations directed at Tehran: "The U.S. investigation of the attack at Khobar is ongoing. We are investigating information concerning the involvement of Saudi nationals, Iranian government officials and others. And we have not reached a conclusion regarding whether the attack was directed by the government of Iran."
Just to make sure that I was not the only one to pick up on this little point, Fox News reported on October 17, 1999, that "U.S. Deputy Attorney General Eric Holder said earlier this month that his department was investigating a possible Iranian role, but had not reached a conclusion."
And to cover the issue from the Saudi perspective, the Arabian-based Gulf Wire reported the same thing: "Meanwhile, the issue of Iranian involvement in the case was addressed by U.S. Deputy Attorney General Eric Holder last week. 'We are investigating information concerning the involvement of Saudi nationals, Iranian government officials and others.' He added, 'We have not reached a conclusion regarding whether the attack was directed by the government of Iran.'"
Brother John
Of course, this is not the first time I have written about Mr. Podesta and his fantastic ability to obscure reality. I have had dealings with Mr. Podesta before over his conflict of interest with his brother Tony Podesta.
While writing an article on supercomputer exports, I found that John had given a donation to the DNC that he said occurred while employed by his brother Tony, a powerful D.C. lobbyist. However, this donation took place when John was actually employed at the White House for Bill Clinton.
John took great pains to quickly change the donation record at the FEC to reflect the fact that he was indeed employed at the White House. It is the only such donation he made while working for Clinton.
Yet, the donation record opened a whole new world of documentation hidden inside the Clinton White House. John Podesta ran the Clinton policy for high-tech computer exports at the same time his brother – and former employer – ran the lobby effort for high-tech U.S. computer companies.
Supercomputers for China and Russia
In the early 1990s, several U.S. computer CEOs formed a joint lobby organization called the CSPP, or Computer Systems Policy Project. By 1994 Tony Podesta, the brother of John Podesta, ran the multimillion-dollar corporate lobby effort through his firm, Podesta Associates, using an employee, Ken Kay, as the CSPP executive director.
In 1994, the CSPP association with Tony Podesta quickly paid off. Several CSPP members won exclusive trade deals through Clinton and Ron Brown. CEO James Treybig of Tandem went with Ron Brown on a trade trip to China in August 1994. Treybig concluded an exclusive $150 million export of mission-control computers for the Chinese Army Long March space rocket.
In June 1995, Ken Kay led the delegation of CSPP CEOs into a closed meeting inside the White House. In this closed meeting, the CEOs from AT&T;, Apple, Compaq, Digital, HP, Unisys, Cray, Silicon Graphics, Tandem and others were sworn to secrecy. The CEOs could not talk under penalty of law.
The Clinton administration made top-secret designs and top-secret contracts available to the CSPP computer companies. In exchange for their cooperation and silence, the companies would be given lucrative export deals and access to even more advanced technology left over from the cold war.
Yet, while it is true that CSPP members thrived on high-tech exports authorized by the Clinton administration, it is also true that Clinton and Gore thrived on the millions of dollars in donations and soft money made available from CSPP members such as Apple, AT&T;, Digital and Silicon Graphics.
For example, once inside the White House the CSPP CEOs were given a detailed briefing by a State Department expert on supercomputers and nuclear weapons. Shortly after the meeting, CSPP member Silicon Graphics sold several supercomputers to a Russian nuclear weapons lab under the pretense of "civilian" uses.
Waiver or Pardon?
Nor is the Clinton cronyism hard to find. In response to a request for an interview, White House lawyers acknowledged that John Podesta did indeed have a conflict of interest problem with his brother Tony and the CSPP. According to White House counsel, in 1997 President Clinton solved the Podesta problem by signing a legal waiver absolving John Podesta of any conflict of interest. Clinton has to date refused to show the legal waiver obtained by John Podesta. Nor did Clinton's attorneys explain why John Podesta felt it necessary to obtain a waiver in 1997 for actions he took in 1994 and 1995.
Of course, a legal waiver for possible criminal actions committed in the past is not a waiver but a pardon.
It is just this kind of activity that FBI Director Freeh missed inside the White House. Freeh had so many scandals coming at him on a daily basis, it was hard to decide which to investigate – so he elected to investigate none.
As a reward for his inept leadership, Clinton took space in his book to blame Freeh for the China-Gate scandal.
Of course, the Clinton pardon or waiver – whichever you prefer to call it – removed any fear of prosecution or investigation. Thus, John Podesta can rest easy with a fat bank account and a cushy job heading a fake think-tank inside Washington, D.C.
Dear John – I know you have no conscience but next time – check your facts.