Fire on New Years Eve…Voice of Laura Cozart…crying and praying. Do her brothers and sisters at South Chrysler Restoration care and in other "Restoration Branches"? Evidently NOT enough!

http://www.kctv5.com/story/37178763/odessa-family-homeless-following-new-years-day-fire
The $400,000 South Chrysler Restoration Church FACELIFT but no money for a member family who lost everything!
When you go to the bottom of the page…ask why they did not help this family who are members? Their "Ministers" leave out the "financial law" that is a part of their "doctrine". Sharing that would be "damning"!

Howard and Laura Cozart.
Members of the "Restoration Movement" Church who have as "Branches" so far have ignored their tragedy except for 2 so far out of those listed in the "Restoration Branches Directory" below.

Read the email I sent to a number of "Restoration Branches" including in Missouri HOPING there would be a response on behalf of the Cozart Family. I am appalled at the NO response but for a few! Obviously a contradiction in "word and deed" per what they profess with their lips" but showing that their hearts are far from He who they profess to authoritatively represent! That IS HYPOCRISY!
"This email is being shared with Restoration groups, pastors, and congregations in the USA.
I am a personal friend of the Cozarts who are upstanding members of the Church of Jesus Christ Son of God Restored…AKA Restoration Movement. They are members of the Bates City Branch in Bates City Missouri.
I am including links to stories and one to a gofund me link.
The poorest and smallest branch in the area…Bates City brought $2100 in cash on the day of the fire and gave it to Howard

Cozart

. I consider that the pure love of Christ that IS Zion in not just word but deed. I would hope that this amount will be matched and more depending on resources of each branch and or individuals in the country doing what they are able.
Funds will be used to find a liveable mobile home and there have been contacts made with companies that have quality units and fair prices etc. Coordinating that should be done with Howard

Cozart

.
Howard lost a major portion of his work tools… compressors, tile cutter, power washers, welding equipment, mig welder and other battery powered tools etc.
Just a thought to share and that is the day is fast approaching that Zion will be a people of one heart, one mind, dwelling in "righteousness" with no poor among them. Helping the Cozarts is "practising that virtue and holiness" before Jesus which is His expression of love and thus His Zion..I keep thinking about the "rich men" Jesus identified in the New Testament and also in the Doctrine and Covenants and in particular Sections 38, 54 and and why there was no Zion as found in the words of Jesus in Sec. 102.
Jesus was quick to identify the "rich" and how they viewed and treated the "poor" and what their eternal destiny would be and why. and where Jesus said they would be upon death because they ignored the "poor" while having the "blessings from God" to help.
Howard Cozart's direct contact number is 816-694-2284 for anyone who would prefer to talk direct and privately in terms of helping his family and him. You can contact him by email also      htc55llc@gmail.com
If this email could be shared as much as possible and info in bulletins…that would be much appreciated.
Thank you and God bless you for caring and loving this family who escaped with only the clothes on their back.
Richard Boyden 816-599-1388. I was there as indicated in the stories..
LINKS:
LOCAL NEWS PAPER ODESSA MISSOURI
http://newzgroup.com/Papers/14903/2018-01-04/flippingbook/#1/z
http://newzgroup.com/Papers/14903/2018-01-04/flippingbook/#3/z
P. S. S.
Felt prompted to share the following given the timing of this "dispensation of time" and as it is related to what is shared above about the tragedy of fellow Saint's the Cozarts
The Conference of Restoration Elders also appear to care less about the Cozart's loss. Notice that they help folks in other parts of the world with "missions" (while ignoring Native American's….and the Cozart's ) ! http://www.eldersconference.org/
I believe those that I sent information about throughout the country DID NOT PUT INFORMATION IN THEIR BULLETINS ABOUT THE COZARTS AND THE NEED! LIKE SOUTH CHRYSLER FOR EXAMPLE! 🙂

How do I know? Read this!
$1,805
of $145,000 goal…

Raised by 23 people in 19 days! 233 Shares! And this

Most Raised From Sharing
There are close to 300 members in the South Chrysler Restoration Branch! What does that say about "laying down your life (and MONEY) for your "brother"!? They love those new SUV'S though…nice fine clothes…latest in phones and watching that "stock market" and "sports" on their "Big Screens" and of course…and their "Wall Street Investments"!
Spending $400,000.00 on a BUILDING FACELIFT is obviously more important then helping a fellow member family who lost everything! Don't women get "facelifts"?
"On Dec. 31, 2017, the Cozart family lost their home, barn, and all their belongings and professional equipment in a devastating fire. The Cozart family are dear friends who have always been there for many people throughout the years. Unfortunately, they did not have insurance, so this is a profound loss. We believe the estimated loss could exceed $145,000. This total of $145K is based on estimate of the house ($75K), barn ($30K), professional equipment ($10K), and other items such as clothing, furniture, appliances, and household items ($30K).
It's a long recovery road ahead for the Cozarts!..Howard lost his tools for his small job contractor business. Laura is a Deaf Interpreter/Educator and she lost all her books, supplies, etc to help her develop lesson plans for her students/families. Their daughter Elizabeth just graduated from college and starts her new job next week. Their son Gabriel is in college studying music and lost his instruments and lap top. He is going to school to be a music teacher. Their son Matt lost all his clothes, shoes, and all personal effects. Their faith is caring them through this very difficult time and the love they have felt from the community, church members, and friends have been a blessing. We appreciate any help whether it be large or small."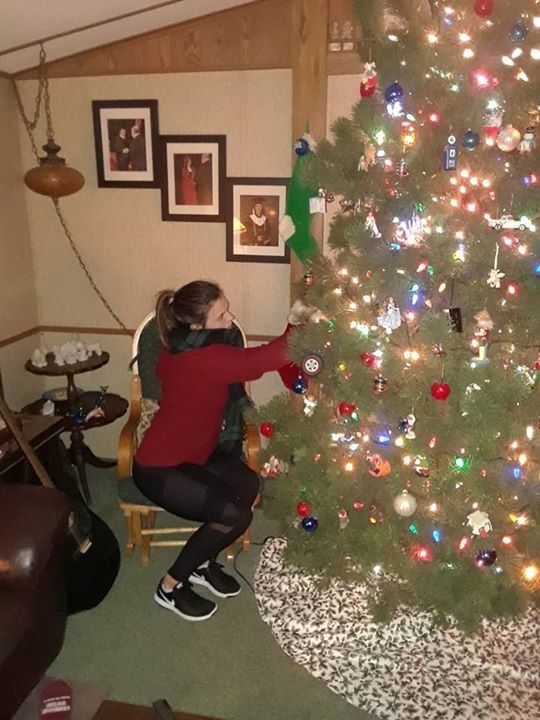 Elizabeth Cozart, daughter, preparing for Christmas.
CLICK PHOTOS FOR ENLARGED VIEW
 Short Introduction as to WHY I am putting this group of FAKE MINISTERS on the map:
I have had my personal nasty lying jacketing me with lies experience with the "MINISTERS/PRIESTHOOD" of this Restoration Branch. HateStoreAtion is a better " term. Pretended to want to help in bringing needed supplies of food and other things etc. to the Pine Ridge and Cheyenne River Sioux Tribe Reservations through the Operation Morning Star charity. Attorney and member and MINISTER Paul Davis contacted me to help and said their were those with "money" that wanted to assist.
And they did…until they realized that "money" was needed to repair a van that was donated by a elderly woman and member of the same Church. Davis laughed at me when I told him repairs were needed…not much mind you but could not continue to deliver items in the 22′ box trailer I bought using monies donated. So I had to sell the trailer to pay for repairs. Amazing huh?
CRE Contact Information
Office Location: The Elders' Conference Office is at 500 N. Union which is on the southeast corner of the Center Place Restoration School property; 819 W. Waldo Avenue, Independence, MO 64050 (do not send conference mail to either street address). Office hours are 9:00a.m. to 4:00p.m. M-W-F. Click here for a map of the area.
Mailing Address: The Conference of Restoration Elders,
PO Box 4085, Independence, MO 64051
Phone: Toll Free – (877)748-8947  Local – (816)836-3421 or (816)836-2730
Fax: (877) 748-8947 (Please call before faxing).
E-mail: eldersconference7@gmail.com
This group of "PreTenders" using the name of Jesus then began their denigrating Operation Morning Star and yours truly. Would not even allow mention in their church announcements of trips taking food, wood burning stoves etc. to Pine Ridge. so members could help. These "Fake Ministers" i.c. Elders made sure working with fellow "Restoration" Elders that no mention would be made by any of the over 20 branches in the area through their "Elders Conference" bulletin!
Godly huh? They also worked with their "Masonic" brothers in the Church trying to get me caught up in a "scam" saying I manipulated a Church member and elderly woman named Ruth Nunn into giving OMS the van when in fact she OFFERED and she even made trips to Pine Ridge and Rosebud delivering thousands of garden plants, food etc. They also later called Hy-Vee and told them they would "boycott" my second trip that Hy-Vee was allowing the truck at their store and where customers could purchase and donate food.
Steve Smith, Paul Davis and Skip Robinson were the "generals" in this hate Richard Boyden and Natives American's agenda of theirs. Also Jim Schultz…can't forget HIM who refused time and again helping Native Americans … racist?
YET…they had spent FOUR HUNDRED THOUSAND DOLLAR'S FOR A COSMETIC FACELIFT on their building which according to Davis has as members MILLIONAIRES!
So given they are RACIST'S when it comes helping the very people that are part of their "Testimony from Jesus"…AKA Native Americans and which testimony is found in the book they "lip sinc"… say Book of Mormon…so when a fellow Restoration Member Family lost everything in a fire…I told them I was going to put them AKA the South Chrysler Restoration ON THE MAP to see if they would help this family get another Mobile Home etc…given this group of self-righteous "Saints' as they call themselves…have money to WASTE for a building FACELIFT!
Do I think they will help…NO! Other "Restoration Branches"? NO!

FAKES…PRETENDERS…LEGEND IN THEIR OWN MINDS!
The ones that Jesus will say when these "Ministers" come before Him…
"Not every one that saith unto me, Lord, Lord, shall enter into the kingdom of heaven; but he that doeth the will of my Father which is in heaven.
Many will say to me in that day, Lord, Lord, have we not prophesied in thy name? and in thy name have cast out devils? and in thy name done many wonderful works?
And then will I profess unto them, I never knew you: depart from me, ye that work iniquity"
AND the "work of iniquity" for this "Church" will be to NOT help this family as commanded in the very scriptures they say they believe in and by the ONE they say represent…Jesus Christ!
Of course for the Cozart's sake I hope I am wrong…but their self serving greed which represents Satan and not Jesus…it what rules their hearts given my personal experience!
Looks like a little Racial Slander to me. PLAY INDIAN BUT DON'T HELP THEM WITH JUST WANTS AND JUST NEEDS USING THE BLESSINGS GIVEN BY GOD TO DO JUST THAT!
WHAT A GROUP OF FAKES!