The American Holocaust – "The Jewish/Christian/Catholic/Free Masonic/Hy-Vee Brand" 
This blog continues to identify and document the RACISM of Hy-Vee with this blog focusing on Hy-Vee HATE OF AMERICAN INDIANS (with local KKK KC support of their "peers"  named below).
Here is the first blog if you missed it!  https://richardboydenreport.wordpress.com/2017/12/07/hy-vee-chief-executive-edeker-teams-with-racist-while-terminating-employees-at-a-successful-market-grill/
Photos from 08 Christmas Food Drive at Independence Hy-Vee, 40 Hwy & Noland Rd.,Middle photo is of Black Race Hater of Whites and American Indians and proud BUFFALO SOLDIER Rod James with his "White trophy wife", And lastly Paul Hoppman Hy-Vee Store Director (on left)
Off of archived web page per first Hy-Vee drop off event
NOTICE: DROP OFF DAYS CHANGED BECAUSE OF WEATHER
We will have a truck located at HyVee Food Store in Independence Missouri located at the intersection of 40 Hwy and Noland Rd. in Independence Missouri from December 20 to the 23.. from 9-5 each day. Large PENSKE TRUCK with OMS SIGN.
We will be leaving the night of the 23d for the Pine Ridge Indian Reservation, the community of Oglala.  
You can drop off food, new clothing, toys wrapped and marked "age/gender", bicycles, appliances such as washers and dryers, wood burning stoves, and any of the items on the list! Fresh meats such as turkeys can be purchased, frozen, and held at HyVee. Fruits and veggies can be also held until we leave on the 23d.
Buy a TURKEY from HYVEE and they will hold it in the freezer until we leave! You can also purchase HY VEE GIFT CARDS and we will purchase items on your behalf !
Timing is everything…right Paul Hoppman? Right Randy Edeker? For you Hoppman to so willingly as a coward capitulate to a threat of a boycott of your store and subsequently Operation Morning Star charity food drive by Indian Hating racist bastards identified below either literally or in collusion history wise, is something I never forgot. Seared in my memory is that day when you took me in your office and gave me the news that you would not do a SECOND FOOD DRIVE! You weren't even man enough to tell me who called and threatened you. But I have a good idea who the feral maggot is 🙂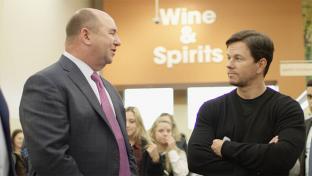 And thanks to you Paul and Edeker and his KKK buddy Wahlberg, I can share with the readers and Hy-Vee customers about the embedded in Hy-Vee racism and the OTHER entities I have have encountered with the same spiritual DNA! Thanks to you and what I discovered recently about your boss Edeker, I am sharing what has been buried on a OMS "archive" 🙂
You were fully aware of the fact that Operation Morning Star had a documented history of making multiple trips to Lakota Dakota Reservations delivering needed food, wood burning stoves. appliances. tools and quality clothing as well as putting in place a one of a kind "adoption program" where folks could send monies direct to utility companies and grocery stores in the names of those in need.
And you did this after you had previously allowed your store (Hy-Vee located 40 Hwy and Noland Rd, Independence MO) to be a drop off point for needed food, clothing, appliances etc. AND at the same time…where those responding to the media reports in the news and television would buy FROM YOUR STORE THE NEEDED FOOD for tribal members in need who were living on the poorest reservation in the country…THE PINE RIDGE INDIAN RESERVATION! And you received both publicity and sales and I remember you being thanked by customers!
When I saw your "boss" aligning himself with a racist dog and wrote a blog about…I realized GOD TIMING  was right to share my RACIST EXPERIENCE with YOU and Hy-Vee. Below I share the sequence of events and identify those I believe were either were involved in calling for a boycott of your store 🙂 and or include them in the same cess pool naming them and their organizations and named members who in the past manifested that same "race hate" of American Indians as Hy-Vee did making you just like Edeker…a race hater of people of color!
Merry Christmas and Happy Hanukkah Hoppman and Edeker!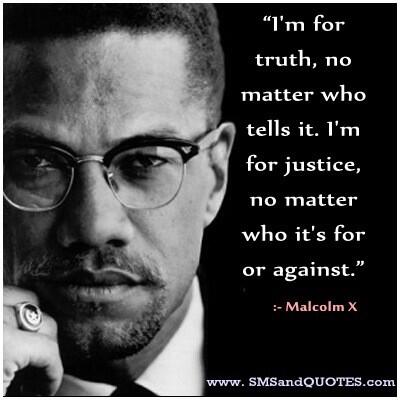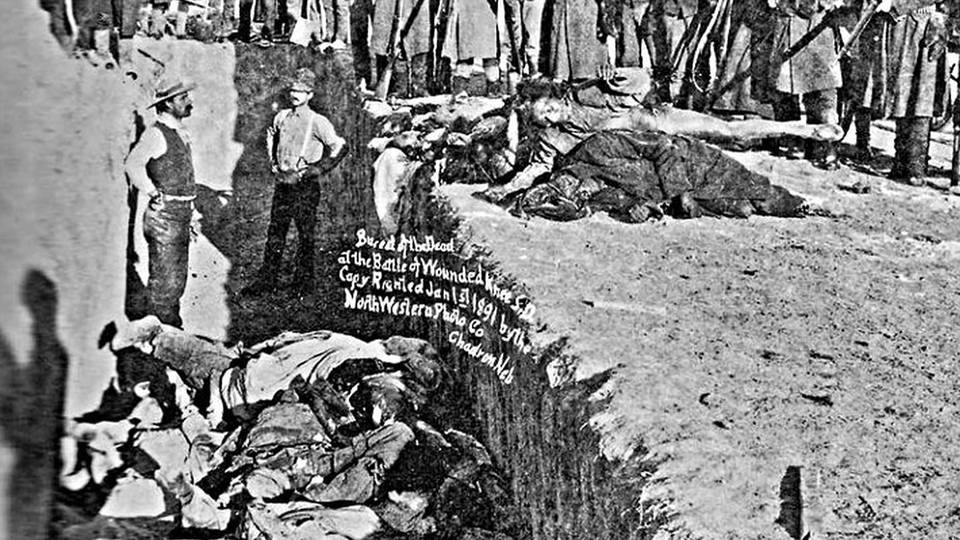 "A Short Course In Indian Country History"
Another WAR is taking place daily in "INDIAN COUNTRY"…that being the war against American Indians. 
This WAR is a HISTORICAL continuation of genocide which began when Europeans starting with COLUMBUS THE JEW first stepped on the shores of this continent. 
It is a war to annihilate American Indians using a process of social, political, and economic 'engineering'  that leads to the creating of 'living conditions' ("ethnic cleansing") which are designed to cause the physical and spiritual death of a race of human beings. It is an act of genocide called "The American Holocaust".
What you see in the photos below is the daily living reality for over 7000 families located in the three poorest counties in the United States of America…
(Plus PHOTOS that show the MASS MURDER of over 300 defenseless Indian children, women and men by the 7th Calvary representing the United States Government at Wounded Knee on the Pine Ridge Indian Reservation in South Dakota in 1890.)
YES…"Indian Reservations" have been used and (compared to to Concentration Camps)
Short Part AbridgedPartical History Of OMS With Pics
LINK TO OMS ARCHIVE…WHAT HY VEE IGNORED WHEN THEY SIDED WITH RACISTS
http://web.archive.org/web/20070210083713/http://www.operationmorningstar.org
Independence Mayor Ron Stewart. Loading at Budget Muffler. Plants to Oglala Elders. Box Truck after dropping off tents to Tornado victims at Oglala 1999. Just a few of hundreds documenting OMS work. And I did not receive a salary, buy a new truck or was I escorted off any Reservation per my enemies lies.
The above photos I TOOK when making trips to Pine Ridge, Cheyenne River, Rosebud and Crow Creek Reservations… these being just PR and CR….I have many more if anyone is interested! I can even connect you with families to help direct… email me at operationmorningstar@yahoo.com
* Median income is $2,600 per year with 85% to 95% unemployment
          * Infant mortality rate 300% higher than the U.S. national average
          * Diabetes and Tuberculosis rates 800% higher than the U.S. national average
          * Elderly die each winter from hypothermia (freezing)
          * At least 60% of the homes are severely substandard, without water, electricity, adequate insulation, and sewage systems
          * School drop-out rate is 70%
          * Recent reports state the average life expectancy is 45 years old  while others state that it is 48 years old for men and 52 years old for women.
                    With either set of figures, that's the shortest life expectancy for any  community in the Western Hemisphere outside Haiti, according to The Wall Street Journal.
Paul Hoppman, director of a Hy-Vee grocery store in Independence, Mo.,
 My commentary/comments…focusing first on Black Buffalo Soldiers (Hired for Jewish owned rail road owners) and then Jewish Racism and their exploiting of American Indians/Indigenous Peoples  starting with the DOCUMENTED BY JEWS THAT JEW COLUMBUS! … a one man Mass Murderer!


Latter Day "Black Buffalo Soldier" Rod James. Click HERE to read about his "brothers"! More links at the bottom of that article…just for you James and your "trophy"! 🙂 Just to let everyone know…JAMES WORKS WITH THE INDIAN HATING HY-VEE CORPORATION… hint hint! 🙂 AND…his racial progeny of "BLACK Buffalo Soldiers" RAPED AND MURDERED INDIAN WOMEN AND GIRLS AND RECEIVED "MEDALS OF HONOR"!

Kansas City Jewish Chronicle Rick Helleman's Mass Murdererng & confirmed Jew Christopher Columbus AKA Cristobal Colon "relative"!
Columbus the Jew and The Legacy of Genocide   "A genocidal pirate, murderer, rapist, and enslaver…"
https://www.henrymakow.com/2016/04/goyim-blamed-for-sins-of-jewish-finance.html
After his fourth and final voyage to the Americas, Columbus summed up his feelings about gold in a July 7, 1503, letter to Ferdinand and Isabella: "Gold is most excellent; gold is treasure, and he who possesses it does all he wishes to in this world."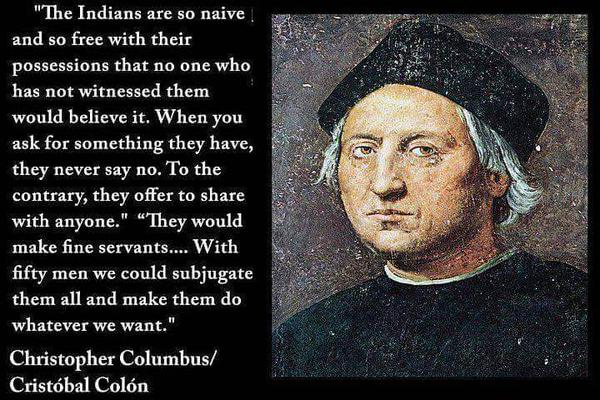 Now to make "famous" the one and only Goi Hating Indian Hating "Latter Day Columbus The Jew" named Rick Helleman.
This
"Schmuck"
refused to give any coverage in his GOI HATING INDIAN HATING RACIST JEWISH CHRONICLE for Operation Morning Star food drives! Read about his relative below and understand WHY!
 
 Lots of history about Jewish Exploitation Of Indian Land stolen and resources then channelled into the hands of Jews. I am only sharing the "California History".
THE major exploiter was a Jew named "Helleman"! 🙂 He "profited" by getting his hands on the "gold" to put in his "Wells Fargo" bank at the expense of the "mass murders" of THOUSANDS OF CALIFORNIA INDIANS!
Prospectors pan for gold during the California Gold Rush in this illustration circa 1850. Violence against Native Americans reached its peak during the Gold Rush...
Read about Rick Hellman's RELATIVE!
Helemans relative made sure the "gold mines" stayed in Jewish hands…say BANKERS AND BANKS…SAY "WELLS FARGO!
https://www.henrymakow.com/the_imperialism_of_jewish_capi.html?_ga=2.235558337.1397893800.1512742067-71409718.1512742067
 This is what Jews like Heleman financed and then ignored. Say "MASS MURDER" of Indigenous Indians…CALIFORNIA!

To understand California's "Indian Problem" and the conflicting white/JEW interpretation of how to handle this problem.
By 1848 – just before gold was discovered in California – somewhere between 70,000 and 100,000 Indians and less than 2,000 white people lived in California. Later that year when gold was discovered, the population mix began a dramatic alteration. By the time California became a state in 1850, California Indians were a minority and a "problem" for the newly-migrated Californians. For the next decade, the "problem" of what to do with California's Indian population was tackled by the new state government and the people of California, as well as the federal government. But each of these stakeholders
had various and conflicting interpretations of how to handle the "Indian problem."
The State of California wanted to:

protect white settlers and miners from Indian attack,
protect white property from Indian loss or attack, and
regulate Indians as a labor force

California citizens wanted the Indians removed from Northern California as quickly as possible.
The Federal government was bound by its trust responsibility to Indian Nations throughout the United States to maintain some degree of safety and well-being among the Indian People of California.
During its first ten years as a state, California neither recognized Indians as citizens with civil rights, nor did it treat Indians as sovereign people. As soon as the state government was created, the new legislators – those men largely ruled by pro-slavery and pro-southern sentiments – passed a series of legislative acts that legally did the following
Legalized Indian slavery by allowing whites to obtain control over Indian children especially through kidnapping, to contract for Indian services, to outlaw Indian vagrancy.
Denied Indians equal protection under the law by forbidding Indians to defend themselves in a court of law, describing the only type of life acceptable via Euro-American customs, allowing the courts to contract Indians out as servants.
Pomoted vigilante justice by empowering and funding militias.
Examples of such Legislation:
In 1850, California's first legislature passed the Act for the Government and Protection of Indians – which wrote the following into law.

Indians could not testify against whites.
Landowners could not permit Indians who were peaceably residing on their land to continue to do so.
Whites would be able to obtain control over Indian children.
If any Indian ws convicted of a crime, any white person could come before the court and contract for the Indian's service.
It was illegal to sell or administer alcohol to Indians.
Indians convicted of stealing a horse, mule, cow, or any other valuable could receive any number of lashes not to exceed 25, and fines not to exceed $200.
Any Indian found strolling, loitering where alchohol was sold, begging, or leading a "profligate course of life" would be liable to arrest.

California passed a law in 1854 "making it a crime to disinter, mutilate or remove the body of any deceased person" – but Indian bodies were understood to be exempt from the law. This begins a period of Indian grave robbing that does not end until federal legislation is passed in the late 20th Century that specifically makes this practice illegal.
In 1860, California passed an amendment to the Act for the Government and Protection of Indians [Approved April 18, 1860.] In essence, this amendment declared that Indians who were not already indentured/enslaved could be kidnapped.
What were the goals of such legislation?
Promote Indian slavery. Californians interpreted the 1850 law in such a way that all Indians, including children, faced indentured servitude through a simple procedure of arrest and "hiring out" through any local justice-of-the-peace. Once they were indentured, the term limitation was almost always ignored, thus resulting in slavery.

The result was a profitable slave trade in Indian men, women, and children throughout Northern California. Children were readily bought and sold, for household work; and women were purchased for both household work and sexual liaisons.
Another practice occurred when officials picked up Indians as vagrants. These officials would then turn the Indians over to the ranchers and other people who needed laborers. After four months, the employer would return the Indians to the city, usually to a place where alcohol was served. Shortly after their return, the Indians would be picked up once again as vagrants, and returned to the labor force.
In 1860, the Act was amended to allow for any Indian not already indentured to be kidnapped.

Deny Indians equal protection under the law by forbidding Indians to defend themselves in a court of law, describing the only type of life acceptable via Euro-American customs, allowing the courts to contract Indians out as servants.

Under the 1850 Act, article 6 states that "in no case shall a white man be convicted of any offence upon the testimony of an Indian." This clearly is denial of equal protection – the belief that Indians did not deserve equal protection under the law in the land they had occupied for generations, or justice in the case of murder or abuse.
Enslaving Indians and denying them equal protection became illegal in 1866, when, to comply with the 14th Amendment of the United States Constitution, the State Legislature repealed the law.
The 14th Amendment provides that no state should infringe on any citizen's "privileges or immunities" nor "deprive any person of life, liberty, or property without due process of law," nor deny to any person "the equal protection of the law."
But all this did was remove the legal barriers. Persons who were already enslaved were not immediately released, nor was the law adequately enforced until the end of the century.
It was not until 1872 that the California Constitution was amended to allow Indians to testify in courts of law.

Pomote vigilante justice by empowering and funding militias. In 1850 with the first California constitution, Article VII gave the Governor the power "to call for the militia, to execute the laws of the State, to suppress insurrections, and repel invasions." In his annual address to the California Legislature on Jan. 7, 1851, Governor Burnett highlighted significant events of 1850, including "repeated calls … upon the Executive for the aid of the militia to resist and punish the attacks of the Indians upon the frontier." During 1850, Governor Burnett called out the militia two times. Additionally …

In April 1850, the California Legislature enacted two laws: An Act concerning Volunteer or Independent Companies, and An Act concerning the organization of the Militia.

The Volunteer Act provided that citizens of any one county could: organize into a volunteer or independent company; arm and equip themselves in the same manner as the army of the United States; prepare muster rolls (attendance records) twice a year; and render prompt assistance and full obedience when summoned or commanded under the law. This is a copy of discharge papers from one of the Trinity Rangers.
The lengthy Militia Act established that all "free, white, able-bodied male citizens, between the ages of eighteen and forty-five years, residing in [the] State" were subject to state-mandated military duty.

In 1851, the legislature set the rates of pay for the troops – $1,100,000 for the "suppression" of Indian hostilities.
In 1857, the Legislature issued bonds for $410,000 for the same purpose.
Both of the 1850 acts were repealed and replaced in 1855 and amended in 1856 and 1857 – but neither repealed the militia nor the money provided to militias. In 1866, the National Guard replaced militias in this capacity.
Studies conducted in the late 20th Century of the California archives found that while it was impossible to determine exactly the total number of units and men engaged in militia attacks against the California Indians during the period of 1850 to 1859, the official record verifies that the governors of California called out the militia on "Expeditions against the Indians" on a number of occasions, and at considerable expense – $843,573.48. (Comptroller of the State of California, Expenditures for Military Expeditions Against Indians, 1851-1859, Sacramento: The Comptroller, Secretary of State, California State Archives, Located at "Roster" Comptroller No. 574, Vault, Bin 393.)
---
Goal #5: To chronologically examine the massacre at Indian Island in Eureka, California on February 16, 1860
Pre-Contact.  About 1500-2000 Wiyot people lived in their ancestral territory that included the current tows of McKinleyville, Blue Lake, Arcata, Eureka, Kneeland, Loleta, Fortuna, Ferndale, and Rohnerville.  Indian Island was and remains the center of the Wiyot People's world.  It is home to the ancient village of Tuluwat and the traditional site of the World Renewal Ceremony held annually to welcome the new year.  The ceremony lasted between 7-10 days and began with the men leaving the island and returning the next day with the needed supplies.  The elders, women, and children remained behind. The ground beneath Tuluwat village is an enormous clamshell mound (or midden). This mound, measuring over six acres in size and estimated to be over 1,000 years old, is an irreplaceable physical history of the Wiyot way of life. Contained within it are remains of meals, tools, and ceremonies, as well as many burial sites.
1850.  The town of Eureka was founded by a group of miners who needed a more convenient route to the overland trail from Sacramento the California gold fields.  Shortly thereafter, Humboldt Bay became the busiest port between San Francisco and Portland.  As Eureka's population and economy grew, its white residents became increasingly uneasy about local Indians whom ranchers blamed for thefts and cattle loss.  Merchants began to see Indian villages that thrived along the Bay as a direct threat to their growing trade.
1860. An army officer at Fort Humboldt observed, "Cold-blooded Indian killing being considered honorable, shooting Indians and murdering even squaws and children that have been domesticated for months and years, without a moment's warning and with as little compunction as they would rid themselves of a dog." An editorial in the Humboldt Times opined, "The whites cannot afford horses and cattle for their [Indian] sustenance, and will not. Ergo, unless Government provides for the Indians, the settlers must exterminate them."
In early February, the Humboldt Volunteer Militia was created, two years after Humboldt citizens sent the following letter to the governor:

"It has now been two months since the Indians in this vicinity started in open hostility to us, though so far they have confined their operations to the trail connecting this County to Weaverville. This being our direct channel of communication with the Sacramento Valley, and a trail over which the United States Mail must pass once a week, it is of the utmost importance that it should be kept open. The Indians on this trail first manifested their hostility to us by shooting a man who was traveling alone. We supposed that a few men would be sufficient to punish the Indians and make them ask for peace, and accordingly, a party was organized, provided for by private means and sent in search of the hostiles. After trailing the Indians for several days, they were attacked from ambush and one man was killed. In the meantime their camp which they had left unguarded was attacked, and ten mules were killed. This party consisted of only twelve men. Subsequently, another party of twenty-five men went out who were provisioned at a heavy private expense. In endeavoring to drive the Indians from the vicinity of the trails, they were fired upon in a deep canyon, and one man was killed, another wounded. The company has now disbanded, not feeling inclined to incur further danger and hardships at their own expense. The trails are now closed, there being no travel over them except by night or in large parties. The question now is what is there to.be done? There are no troops here at the garrison and the people are not able to carry on a war at their own expense. The people of the county are of the opinion that if the militia could be called out, and arms furnished, the merchants would feel encouraged to furnish supplies, and wait for the State to pay. We can furnish the men if they can only be supplied."

On February 16, The Indian Island Massacre occured. A group of white settlers armed with hatchets, clubs, and knives paddled to Indian Island where Wiyot men, women, and children were sleeping after a week of ceremonial dancing.  Two other villages were raided on the same night – one on the Eel River and another on the South Spit.  Somewhere between 80-100 people were killed on Indian Island.  A baby, Jerry James, was the only infant that survived the massacre on the Island.  Another 200-600 Wiyot were massacred in the other raids.

Journalist Bret Harte published a front-page editorial in The Northern Californian in which he expresses horror over the massacre. Subsequently, he was run out of the county and moved to San Francisco.
After 1860.  An estimated 200 Wiyot people still lived in the area.  Federal troops collected the surviving Wiyot people from other villages and confined them to the Klamath River Reservation.  After a disastrous flood on the Klamath, the Wiyot were moved to the Smith River Reservation and later to the Hoopa and Round Valley Reservations.
1870.  A shipyard repair facility was built on part of the Island and operated there until the 1980s.  During that time, it dumped creosote, solvents, and other chemicals that were used to maintain ships.

View STAN BLOOM'S profile on LinkedIn, the world's largest professional community. … IMPORTING FIREWORKS FOR A 501C3 FUNDRAISING BUSINESS THAT OPERATES OVER (30) LOCATIONS IN KANSAS & MISSOURI FOR THE FOURTH OF JULY. … FLEET WHOLESALE TRUCK REMARKETING SPECIALISTS…and INDIAN HATING JEW!

The
SCHMUCK
Bloom called me after being contacted by the Independence Rotary Club who suggested his company for helping Operation Morning Star raise funds. I said GREAT! I thought and shared the idea that young people from the Pine Ridge Indian Reservation could come and make some money for themselves as well as helping Operation Morning Star! After mentioning that on the phone…say "SILENCE"!
Then he said he had to "find a spot" which was a LIE given his companies history of selling fireworks every year. Every time I called and asked him the latest…BLOOM THE INDIAN HATING JEW lied to me. Another Jew who is a RACIST WHEN IT COMES TO AMERICAN INDIANS. After LYING to me with excuses I called him a "FUCKING RACIST JEW" and hung up!
Now that I am on a roll about INDIAN HATING Jews and Hy-Vee who shop at Hy-Vee. I needs to be exposed that Jews also support a RACIAL SLUR TEAM owned by a INDIAN HATING JEW named Dan Snyder who is the owner of the mostly "black Buffalo Soldier" team named the Washington "RACIAL SLUR" Redskins.
I have documented the history of that
RACIST INDIAN HATING RACIAL SLUR
more then ANYONE.
CLICK HERE TO READ
and then
CLICK HERE TO READ
another one. A bit repetitive but that's ok 🙂
This racial slurring nigger and Buffalo Soldier is dead!
"Amanda Blackhorse, the lead plaintiff in the trademark case against the Washington Redskins, thinks the real solution is a name change for the Chiefs.
[172]
Native Americans in
Phoenix, Arizona
picketed at the game between the Chiefs and the
Arizona Cardinals
, and have asked the Cardinals' management to bar "
Redface
", the wearing of headdresses and face paint, protesting what they perceive to be a mockery of Native American culture.
[173]
A protest took place in Minnesota when the Chiefs played the Vikings on October 18, 2015. "The Kansas City Chiefs have flown under the radar," said Norma Renville, the executive director of Women of Nations Community Advocacy Program and Shelter. "They are contributing to our cultural genocide."
[174]
Achieving greater visibility by reaching the playoffs in 2016, Native Americans at
Haskell Indian Nations University
in
Lawrence, Kansas
are asking the Chiefs to stop behavior that invokes stereotypes, such as wearing headdresses and doing the "tomahawk chop".
[175]

"Free Masons state LUCIFER IS GOD!
"To you, Sovereign Grand Instructors General, we say this, that you may repeat it to the Brethren of the 32nd, 31st and 30th degrees: 'the Masonic Religion should be,  by all of us initiates of the high degrees,  maintained in the purity of the LUCIFERIAN Doctrine.  If Lucifer were not god, would Adonay (Jesus)… calumniate (spread false and harmful statements about) him?…Yes Lucifer is God…"
(Albert Pike, A.C. De La Rive, La Femme et l'Enfant dans la Franc-Maqonnene Universelle, page 588.)
Free Masons as Satanists have hated American Indians upon arrival from Europe! Read this blog naming just a few. http://burningtaper.blogspot.com/2006/08/masonic-genocide.html
"Richard, Thank you for your email. You are no longer welcome in our building. We will not respond to your future emails or correspondence. Steve" – Steve Curd – New Publisher of the "NEW KKK" Independence Examiner
(ORDERS have been given by 'Der Fuhrer' to not communicate to me or do any further articles on Operation Morning Star!)
Steve "The Turd" Curd is a KKK racist dog if there ever was one! He removed the more then 15 articles on Operation Morning Star upon arrival. He fired Paul Beaver…head photographer because he came to Pine Ridge and wrote the story below. Curd needs to take a trip to Pine Ridge and I can introduce him to some Veterans 🙂
Angels of Pine Ridge In The Midst Of "Ethnic Cleansing"
Article written by Paul Beaver who was FIRED BY KKK CURD FOR WRITING THIS AND GOING TO PINE RIDGE!
Maykala White Face, 5, must be an angel. Her pink shirt is emblazoned with the word in large glittering script. Her precious smile melts the heart of the biggest and strongest of visitors to her Manderson, S.D., cluster home on the Pine Ridge Indian Reservation.
She does not know that the six friendly visitors during Christmas from the Kansas City area bringing food, toys, wood stoves, appliances and household goods might not also be angels to her.
The six visitors were part of Operation Morning Star delivering about 4 tons of food and other needed items to some of the families of Manderson Christmas Day. Operation Morning Star is a Kansas City metrowide project founded in Independence to collect goods for the people there. A month after Christmas that food was gone.
Woodrow Respects Nothing, 78, and his family were another household visited. Respects Nothing uses his World War II, Korean War and Social Security benefits to help provide food and housing for his two daughters and grandchildren in Manderson. Respects Nothing earned three Bronze Stars and three Purple Hearts from the wars.
Paul Beaver, the Examiner
John Yellow Bird Steele, right, lives with 23 members of his extended family in the house house behind them. Steele is president of the Oglala Sioux Tribe. Mattresses are laid throughout the house for people to sleep on at night and stored away during the day.
He reluctantly lives in a HUD house for now but hopes someday to move back to his land on the reservation where he was raised and where he has a small herd of horses. The log cabin on that land is six miles and a half-hour's drive off paved road. The now-abandoned cabin is where Woodrow lived until he was nearly 50 years old. It has no electricity or running water or plumbing.
His granddaughter Anna, 17, takes the other children in the family there regularly so they can ride his horses and get away from the cluster housing conditions that offer few opportunities for Lakota children to play safely and experience that part of the Lakota heritage. The group of visitors watched the children come to life when they were able to go to the land of their grandfather and ride his horses.
Richard Boyden of Independence founded Operation Morning Star six years ago. It is dedicated to providing relief to people on the Pine Ridge Indian Reservation. In perhaps 23 trips to Manderson within the Pine Ridge Indian Reservation more than 35 tons of food and other needed items have been delivered because of the response of donations from Kansas Citians.
There were a few old and worn out chairs in Wilda Black Bear's house at Christmas. The couch that was once there that was also a bed had fallen apart and was gone. A mattress lay in the middle of the living room floor where Maykala sometimes sleeps with two or three other young children. There are not enough beds for the extended family of 17. A small freezer sits in the corner of the living room, no longer working. Now, a month later, neither does the used washing machine that was delivered at Christmas to her house
Paul Beaver, the Examiner
Woodrow Respects Nothing, 78, grew up in this log cabin and lived here with his family until the 1970's. He would like to fix it and move back to this land where he keeps a small herd of horses. Currently he lives in a HUD house in Manderson with his two daughters and grandchildren.
The visitors were offered coffee and asked if they were hungry. They were given food from a family who has little to eat.
This is the spirit of generosity seen among the Oglala people. It is a tradition of love and giving from those who have very little. It is humbling to the visitors.
Emmery Black Bear, Wilda's husband, has no job. He is a carpenter and wants to work, like so many other Oglala Lakota men. But, there is no work. There is only the economic assistance program that does little to supply the basics promised by treaty ­ right of food, shelter and other needs. He does what he can to keep up their dilapidated HUD cluster house. But, without money, he is unable to do all that is needed.
Now black mold has been found inside their home and hundreds of others on the reservation. The Federal Emergency Management Agency, the Indian Health Service and the Bureau of Indian Affairs say it is a result of sewage backup and other excess moisture sources. This black mold can cause flu and allergy-like symptoms that can include skin rashes, inflammation of the respiratory tract, bloody noses, fever, headaches, neurological problems, suppression of the immune system, and in some cases, even death. Some forms of black mold are known to cause cancer.
Paul Beaver, the Examiner
The day before Christmas about four-tons of goods are passed from the 23-foot box truck at right to an unused trailer at left to later be given to residents on the Pine Ridge Indian Reservation.
The houses will have to be sanitized, or more likely the houses will be condemned and will result in hundreds of displaced Lakota families with no place to live.
What was a problem of roaches is not as important anymore. Nor is the sliding of the house on its foundation. Nor is the insulation that has disintegrated to the point of giving little benefit. Nor is the leaking plumbing needs as important as before.
Instead the primary fear is when will they become homeless while getting sick during the waiting process.
John Yellow Bird Steele is the President of the Oglala Sioux Tribe and a Vietnam veteran. Steele explained to the group of visitors the fight he is involved in for his people and the assault upon the national sovereignty of his tribe by the Federal Government and the state of South Dakota. Land rights, water rights, legal rights, among other treaty rights, are all under attack, he says.
Paul Beaver, the Examiner
Two Operation Morning Star visitors carry a sewing machine, bench and several small items to a woman in this house on the Pine Ridge Indian Reservation.
He cites the 85 percent unemployment rate, the per capita income of less then $2,800, more than 60 percent of tribal members are living below the poverty level, 1/3 of the houses are without running water or electricity.
He says the Oglala have an 80 percent alcoholism rate, the nation's highest suicide rate, eight times the national rate of diabetes, five times the rate of cervical cancer, twice the infant mortality rate and a life expectancy equal to that of Haiti.
These provide the groundwork, Steele says, for the economic destruction of his people while at the same time creates social conditions that cause the further deterioration of the people physically and spiritually. Steele chooses his words carefully and calls this "ethnic cleansing."
Steele, who lives with his wife, Anna, in a small HUD house, has an extended family of 23 children including their own. Beds materialize at night when mattresses are laid out on the living room floor.
For more than one month, Steele said to the group, the Department of Interior and the Bureau of Indian Affairs have done nothing to release the trust money checks owed to more than 300,000 American Indians. This is money the residents depend upon to buy food and pay bills.
The six visitors were reluctant to say "goodbye" the day after Christmas. They had grown to love them deeply.
There is no word in the Lakota language for "goodbye" because the circle of love among the Lakota can never be broken because of distance or circumstance.
There are plans on the drawing board that Steele and other tribal leaders are interested in for geodesic homes at $6-9,000 each to replace the HUD homes. These can be built in one to four days. Also, an "Aqua-Ponics" food production system costing and initial $4,000 would provide food for a family of four more than a year's period time.
In the Kansas City area, Operation Morning Star responds to ongoing needs of the Oglala Lakota people by asking for gifts of food, wood burning stoves, chain saws, working appliances, washing machines, dryers, beds, good furniture, hybrid seeds for gardens, tools, compressors and even good running trucks and cars, including a diesel tractor and trailer.
Paul Beaver is the photo editor at The Examiner and was one of six visitors from this area who visited the Pine Ridge Reservation over Christmas and helped deliver food and goods. He can be reached at 350-6350 or beaver@examiner.net. To make a contribution to Operation Morning Star, contact Richard Boyden at 816-461-6666 or at Richard_oms@sbcglobal.net . For more information, go to Boyden's web page at www.operationmorningstar.com .
This collective of "Fake Saints" who's ministers include "Free Masons" …stopped putting in bulletins info about OMS FOOD DRIVES. South Crysler Branch above had major Indian Haters in the ministry… Steve Smith, Skip Robinson.
There were others like now dead and in hell David 32 degree Mason David Bowerman who with the "Conference of Elders" made sure NO FOOD DRIVE INFO would be put in bulletins. Plus…there was the ongoing lies and slandering of me including calling the Independence PD trying to get me ARRESTED for "scamming" a woman WHO DONATED WILLINGLY A VAN…RUTH NUNN!
The culprit in this may have been "Elder" Jim Schultz…another racist who never responded to the many requests for a food donation for Pine Ridge..but he did accept my money for his insurance business 🙂

These folks could have called for the "boycott" of Hy-Vee given their history of HATE OF OMS AND ME!
Another racist organization…REFUSED TO HELP TORNADO VICTIMS ON PINE RIDGE! I know…I called them…BUT THEY HELP EVERYONE ELSE…EVER OTHER RACE PEOPLE AND CULTURE BUT NOT AMERICAN INDIANS…KKK HEART TO HEART OF SATAN!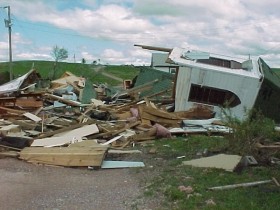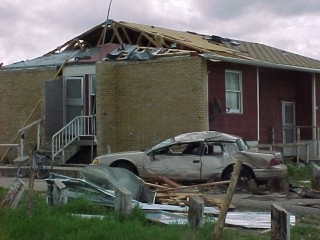 Pine Ridge Reservation Tornado Victims Receive Assistance ….
BUT NOT FROM HEART TO HEART!
RAPID CITY, S.D. — One month before President Clinton visited Pine Ridge Reservation for his economic empowerment tour, tornadoes swept through the Lakota Sioux community, destroying or damaging more than 150 homes and leaving hundreds of people homeless. Although those affected by the early June storms are receiving emergency assistance from the Federal Emergency Management Agency (FEMA), the state of South Dakota and various voluntary agencies, many still have unmet needs. In response to the disaster, the Oglala Sioux tribe has set up a donation fund to help their neighbors recover.
"What makes this disaster especially heart-breaking is that in many cases, one home houses four or five families," FEMA Regional Director Rick Weiland said. "The tornadoes devastated people already impacted by economic hardships."
Shannon County is one of the poorest counties in the country with an unemployment rate at 70 percent and an average annual family income of $3,800.
President Clinton witnessed the severity of the housing situation in Pine Ridge during his economic tour when he visited a Lakota woman who houses 28 family members.
The President declared the Pine Ridge Reservation and Shannon County a federal disaster June 9 which allows federal and state financial assistance, including temporary housing, for those affected by the tornadoes, severe storms and flooding.
Because of the housing shortage in Pine Ridge, FEMA has brought in travel trailers and manufactured homes for many of those displaced. "FEMA is doing everything within its power to provide long-term housing for each family who lost a home," Weiland said. "But we cannot take people back to what they had before the disaster."
"When someone loses everything they have accumulated during a lifetime, it is impossible for any one agency to try and replace it," said Harold Salway, chairman of the Oglala Sioux Tribe. "We have many families who have no financial resources to replace what they lost."
Many people across the country have asked how they can help residents of the Pine Ridge Reservation recover from the disaster. The Oglala Sioux Tribe wants people to know that cash donations are the best way to help people recover from this disaster.
Cash donations allow tribal leaders to respond directly to the most critical needs. They also are easy to manage and do not require warehouse space or logistical support. The following is a list of materials and services that can be provided with cash donations.
Employ local contractors, builders, welders, and electricians from the Pine Ridge Reservation
Build foundations to secure mobile homes and reinforce basements
Contract the building of tornado safe rooms for individuals
Help residents with unmet needs
Purchase building supplies and materials from the local areas
Help support local volunteers from the Oglala Lakota Nation