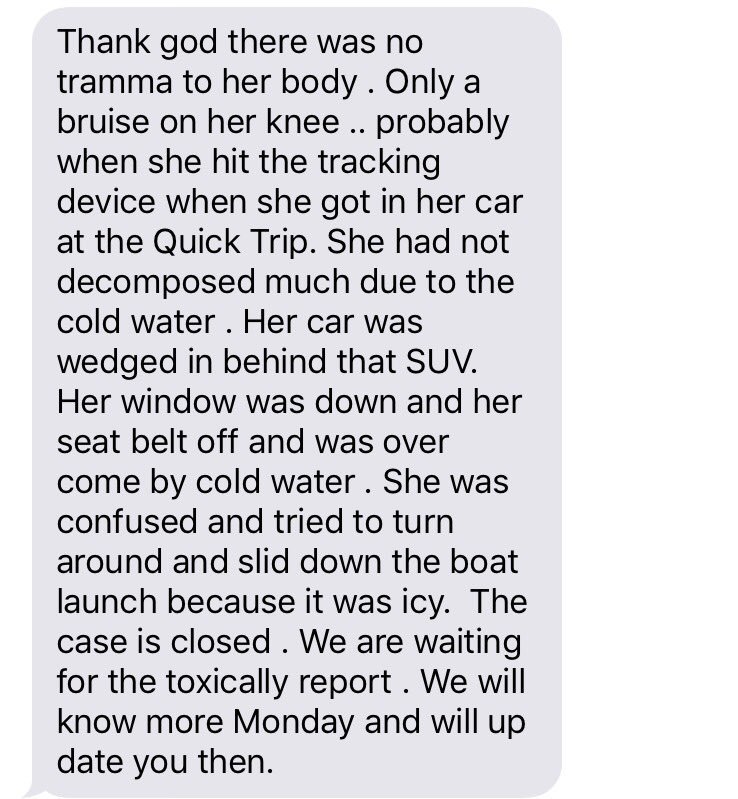 Word for word per administered by Law Enforcement to Mrs. Anderson "Cover-up Script"!
Larry Wright and Annette Griggs are representing Toni Anderson's mother Liz Anderson in a Law Suit. I know Griggs as she represented me in a law suit. Interesting huh?
So this is the email I sent. Lots could be added but these are the make or break the "accident" story questions as far as I am concerned. Answer these and you have the accident story destroyed and the guilty of what really happened to Toni Anderson and by who exposed…end of story. Not asking them is a problem for me big time. If they are and are not answered…then what? If they are not answered then there is collusion in the cover-up.
Questions of importance.
1. Finding out the names of the other North Kansas City police officers on duty the morning Toni was stopped besides by NKCPD cop ​Bill Ficken and who were seen following her on video after she left Quick Trip.
2. Getting all the dash cam recordings of Ficken and the other 2 officers during their shift and who need to be named.
3. Getting all the dispatch recordings from the 1st stop by Ficken and the other 2 officers during their shift.
4. Getting all their GPS tracking and location information which is recorded and which the FBI has access to which would determine their location after they followed Toni Anderson out of QT.  The FBI should also be asked to gather and release all the officer's GPS ping location information as well as all cell phone conversations for the 72 hours they lied about stopping Toni.
5. Finding out who and why Toni's GPS information was withheld since she was just a "missing person" and who ordered/authorized that.
6. Asking why KCPD lied when it's documented the dispatch information which included Bill ficken stopping her was withheld saying that there was no knowledge or record of any law enforcement stopping Toni Anderson.
7. Demand that Team Waters Sonar release the photos that they refused to release. There is something they are hiding. Ask them why they lied saying that Missouri Hwy Patrol could not find Toni's car when they searched for it because it was a newly placed vehicle in the water when later Missouri Highway Patrol found a month-and-a-half ago a newly placed car near the same area where Toni Anderson's car was at. The photo's would show and or other photos just where Toni's body was located in the car and if it was wrapped in a rug as some have said. 2 months in the water in the Missouri River would leave any body in a condition of bloated mush and mutilated by cat fish etc. feeding on it. A photo of her body should be available from Team Waters. Who told them NOT to release it?
8. It should be verified IF the Missouri Highway Patrol actually searched that "same spot" in spite of what Captain Stacy Graves said saying they did. Many people think that car was newly placed and that in fact there were bricks on the floor. And why was she wearing different clothing according to KCPD Sgt. Caldwell Toni was found wearing jeans when in the QT video she wearing sweats.
9. So did they or did they not find her cell phone with her? Why one minute was it shut down and dead right after she left QT and then the next minute it was found pinging in an area in Parkville where NKCPD cop Ficken lives.
​10. ​. Why was there was a six-hour time gap on the NKCPD dispatch log recordings from around 4:40 a.m. to 10 a.m. on the morning Toni "vanished into thin air"? There's supposed to be a archive available and it's not! So who would remove that and why would that be erased unless they're trying to cover up something.
11. Is Rusty May going to be subpoenaed? Your FBI contact should be able to document that his Machinery Parts import business was documented by the FBI bringing cocaine and heroin into this country. He was seen following Toni Anderson in and out of the QuikTrip in coordination with the North Kansas City Police SUVs.
​12. ​The autopsy is the biggest red herring lie of all when it comes to identifying toxins in your body. The only way that could be true is if her body was placed within 72 hours in the water. There was an anonymous tip before it was announced law enforcement stopped her ​and ​that her car was placed exactly where it was found ​"​2 months later​"​. Another anonymous tip said she was sex traffic to St.Louis.​
13. Who ordered the 72-hour black out of Lies by Kansas City Police Department during which time LE locked down all visible cam cameras that preventing any identifying Toni and her car from QuikTrip to Parkville?
14. Ask the FBI why they never entered into Toni's "missing person" case or was it because they used "script" of "no foul play" from beginning to end as a reason not to?
15. Demand photo's of the "bruise" on Toni's knee which the ME would have (as well as the condition of her body) and according to KCPD occurred when she hit her GPS unit and dislodged it! If that was the case…why would LE refuse to release the GPS information?
16. Why did LE convince Liz Anderson to NOT ID Toni's body if it was not so decomposed since a "bruise" was visible? Did they show her any photos and if not why?
There are more questions but these are the most important and have never been addressed by the media or answered by North Kansas City Police Depart, Kansas City Police Department let alone by the FBI. Why is that?

I am sure thousands of followers of Toni Anderson's story are waiting to see the results of the "investigation" by Larry Wright and his "Co-Counsel". I can assure you that if these questions are not asked and or if they are and not answered then everyone will know the "cover-up" will forever remain in place. Good thing God sees the lies and the liars and those in collusion with because no matter what is done or not done in the realms of time to expose the lies, the liars. and those guilty…this will not be the case in the realms of eternity where "Liars and Murderers" will be sent to the Lake of Fire and Brimstone.
This is what I believe happened to Toni Anderson and by WHO and WHY! https://richardboydenreport.wordpress.com/2017/07/28/why-the-fbi-snuffed-toni-anderson-using-their-protected-drug-importer-and-rogue-nkcpd-dealers-and-sex-traffickers/