July 15 Update!
Toni Anderson was murdered because she "saw something" and needed to be "taken care of".
The something is DRUGS! Big time!
Rusty May…AKA Charles Russell Hopkins IS the major player in her abduction and death! Suffice it to say…May was working with and still does…the cartels to bring drugs into this country using the importing of "machinery parts". Cocaine from Guatamala and heroin from the middle east. FBI agents had the dirt on him but all of a sudden were told to "leave it alone'! He has a free pass and get out of jail card ONLY in the "realms of time"!
Toni somehow got caught up in this and either saw something or was asked to partake of something and said no… but in either case Toni became a threat. That is the reason why she was "drugged"at Chrome and told to "gather yourself" by Ficken…May's buddy orchestrated what happened to Toni.
She was NOT drunk or high on cocaine. She was DRUGGED either at Chrome or by May/Hopkins. May is documented to be there at the QT in his RED CADILLAC, So are at least 3 NKCP SUV's and not by coincidence! They ALL were there to make sure Toni was no longer a liability to their "network"…Ficken, Kimmel, Romine and especially FBI boy Major Kevin Freeman who was a major player in all of this and they all knew May and worked with him to deal with Toni Anderson.
Alonzo Washington/KC Crime Fighter knows this. KCPD cops know this. The FBI knows this. Comey knew this. This is why Forte "retired"…he knew this too as well as former FBI Special Agent in Charge in KC..Eric Jackson. THEY ALL KNEW THIS.
Rusty May somehow screwed up. He was told to "take care of YOUR problem" by his bosses and with the help of his "drug buddies" in the NKCPD…"they did"! Cash from one side of the Missouri River to the other to all the right "pockets" equals a cover-up of the abduction and murder of Toni Anderson.
Don't worry folks…The Justice For Toni Anderson Facebook page is working hard to protect May and NKCPD because the "admins" including Alissa Cordova know about May as does Mary Ward because it is HER FAMILY that is the NKCPD drug dealers and the ones guilty with May…including ALL THE ATTORNEY'S I HAVE NAMED!
End of story. No more needs to be said except THIS. Toni Anderson will ONLY get Justice when each of those involved in what happened to her and those protecting them meet God upon their DEATH and He then drop ships them into HELL!
NKCPD thug terrorist cop Bill Ficken and friend of the WARD FAMILY admitted to a relative to stopping Toni Anderson…then she vanished forever!
INTRODUCTION: Thanks to this murdering dogs in blue and their "Fraternal Order of Fellow Cowards" Toni Anderson will never be a wife and be a mother having her own children.
So with that said…I am releasing this blog on Mother's Day in commemoration of Toni Anderson and all real mothers including those who unfortunately were cursed to have spawned the likes of a Bill Ficken and those like him…AND to my mother who was a woman that suffered at the hands of the same kind of animated by the devil men.
THIS BLOG WILL BE IN TWO PARTS
PART ONE will focus on updated documentation, clarification and identification of those I believe are guilty of murdering Toni Anderson.
PART TWO will focus on those through either overt or covert collusion work with the guilty and are therefore complicit and equally guilty as if they committed the crime of the murder of Toni Anderson themselves.
Also I will include information on those who have jacketed me with lies for the purpose of discrediting me and thus the truth about the guilty which they themselves are in bed with to protect those who are their "friends" and "family" who are guilty of the crimes I have exposed.
Two prime examples are Mary Ward using the lies of Bill Bunting to protect her "family of in-laws" made up of NKCPD thugs, the courts/judges, and a pedophile enabling father-in-law who is President of the North Kansas City School District…all through her husband Jason.
To limit the overload of information on this blog and being repetitive of past blogs, I will post at the bottom corresponding links to previous blogs at the bottom of this page which means that anyone interested in Justice For Toni Anderson will have to read and decide what is true and not true in what I share.
Happy Mothers Day Toni Anderson and to all Mothers who suffered at the hands of evil men yet maintained their undying love for their children.
NKCPD POLICY 1020 WHICH THEY ARE GUILTY OF VIOLATING PER TONI ANDERSON ETC.
PART ONE
It is confirmed from a confidential source that North Kansas City Police Officer Bill Ficken pulled over Toni Anderson because he admitted to pulling her over. "You know that missing woman…I pulled her over just in case anyone asks…" They also believe and have no doubt in their mind that Ficken murdered her as that IS his pattern of violent behavior according to them.
Patrick Romine
Major Kevin Freeman
Being Toni was pulled over not once but twice per her text "OMG just just stopped AGAIN" this means that Ficken was involved in both stops as two NKCPD vehicles are seen following her with a 3d unidentified vehicle. Say Ficken, Patrick Romine and Christopher Kimmel and "others" involved I now believe includes Major Kevin "FBI" Freeman.
After the second stop, Toni was never heard from again which for me means these lying rogue NKCPD cops are guilty of her murder. This is why KCPD took 3 days to make an announcement to prepare the lies that were carefully crafted to protect NKCPD murderers of Toni.
Here is a powerful and disturbing "vision" of what one woman shared with me. She said she saw what happened to Toni while driving through the areas. I personally find her visions credible since they visualize a real life scenario of the truth of what happened to Toni behind the LE lies of "driving into the river down a boat ramp". This happened in March if I remember correctly…or late February.
"I went last week to park. No one paid one bit of attention to me. No drones. No neg eyes on me feeling. There was gun fire across river but sounded like cop shooting range. And felt one set of eyes on me. As if Toni was looking at me from houses on hill you can see from there.
And another vision. …. in the vision A male cop holding Toni's phone As if I was seeing thru it. I saw all three cops you've mentioned. Both cop suvs. The black SUV two men not cops and the guy holding her phone was with them when they got Toni. I see her tied up in a barn in a very deep wooded area. This vision is of that am. It happened yesterday at work. After I left park last weekend I went to nkc. I know it shows them following her south on Burlington but my gut says Buchanan street behind qt. So I turned into it. That's when I saw another vision. Her two cop suvs and black SUV stop her. The second stop. She texted. They approached and she ran. I never knew til recent she knew the area. Which I thought early on she did. In my vision she turned left from Buchanan. Then right at light. Then left onto armor. Running all of it.
My vision early on , a good month into it, and visiting the 35 armor area a lot was the feeling of her presence. So as I drove the way i saw her doing I came to shoulder before exit to bond bridge. There is a 29 south sign and that's is where I saw them finally get her. Even last weekend that vision has never changed. There dragged her out of car. Kicking screaming etc and was put in black SUV. I see 6 ppl total. Three cops you've named. Two non cops and the male cop who is the same one on the vision w holding her camera of her being in a barn etc.
This male cop never harmed her. Only observed and helped. But latest vision is that this guy has a very guilty conscience. He wants to come forward but can't cuz he knows they will kill him for snitching.
Back to last week w me driving route I thought she ran and was caught. When I drove to that 29 south sign I felt Toni's presence again as if she is still alive. If she is I felt her still in parkville."
Here is another confirmation of Toni being stopped by NKCPD rogue cops and that is discrepancy in the dispatch records of that day from 4:30 to 10:45 are missing. I checked other days and there are NO OTHER TIMES MISSING! Toni was not pulled over at 4:20 as the time frame is still there.
That is when she sent the text. They forgot to remove that time to keep it with their LIE/STORY or that the so-called lane change should be heard on that day from 4:01 to 4:31 am since they claim the stop was at 4:20.
The other time frames missing show that Ficken was missing and could not be located by dispatch which means he was with Toni Anderson!
In the beginning… "However, KCPD, who has reached out to all surrounding agencies, say they have no record of Anderson or pulling her over Sunday.
"We have no indications that she was pulled over by an officer with the Kansas City Missouri Police Department," said Sgt. Kari Thompson, KCPD.
Police told KWCH-TV that there are no signs of foul play at this point, "meaning there is no active search." But investigators have been following leads, tracking down evidence and interviewing family members, friends and her boyfriend, according to reports.
"We've spoken with family members, friends and co-workers but unfortunately still no sign of Toni's whereabouts," Kansas City Police spokesman Darrin Snapp told the Wichita Eagle on Thursday. "There is no evidence of foul play but her disappearance is very concerning."
Police said like in other missing persons cases, Anderson may have left on her own, KWCH reports. But her mother told KHSB it's unlike her daughter to be out of contact with her loved ones or to leave on her own.
The lies spread far and wide about  forever "Missing Woman Who Was Not A Victim of Foul Play. A constant streaming of "assumptions and questions raised" by the KCPD and were written and designed by the FBI and KCPD to make sure the real murderers of Toni Anderson…the NAMED NKCPD cops who stopped her the SECOND TIME, ABUDUCTED AND MURDERED HER would never come into question.
Another interesting observation exposing the KCPD LIES having to do with the "time line".
-All video footage should be demanded in order to make sure the cop or third/mystery car did not follow Toni.
The most important and final KCPD statement was made by Capt. Stacey Graves when Toni's car was found with her in it with the words "No Foul Play"!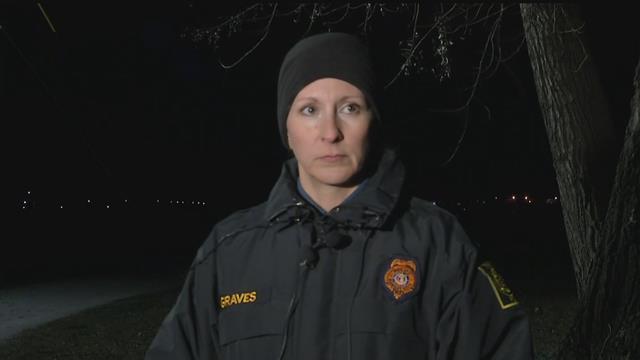 Kansas City police on Monday said detectives were working to get a positive identification of the body found, but Anderson's mother has said the body belonged to her daughter.
"I can't confirm anything that has been told to the family of Toni Anderson, but I can say that at this point we don't have any evidence that suggests foul play," said Capt. Stacey Graves, a spokeswoman for Kansas City police.
"It's still an ongoing investigation that detectives are working on so I won't be able to speak any further about that."
Toni was identified by "clothes only" and not the same clothes she was wearing when she left work at Chrome. I do believe she was "set up" as she was called into work on her day off. NKCPD officers frequented Chrome including Ficken.
Just wanted to share this with those who want Justice For Toni Anderson.
And lastly…there is the proximity of Ficken's Parkville residence to the "Boat Ramp"…say 6 minutes. I believe Toni and car were placed in the Missouri River after all the previous searches were finished and that the car was only in the water from 1-2 weeks rather then 2 months.
Another Ficken NKCPD crime against a woman named Angela Roberts
http://www.nkc.org/common/pages/DisplayFile.aspx?itemId=3213579
PART TWO
I singled out Mary Ward as being in collusion with Ficken and NKCPD" through her husbands family…the "Wards" because she told me not to share what NKCPD terrorist thug Bill Ficken did to her…almost leading to her death. We had been "friends" to the degree I even offered a car to replace hers but when I realized sharing her experience with Ficken was not going to happen…I decided she did not want justice for Toni Anderson…no matter what anyone says.
By not sharing this willingly…her silence is being complicit with what happened to Toni Anderson by Ficken and the others. Yet…she has demanded Justice For Toni Anderson. How can that be when you hide the murderous rage one experiences from NKCPD rogue cop Bill Ficken?
Here is a message she sent me confirming her "collusion" with the murderers of Toni Anderson and why she did not want me to share the email.
If you read the email from Mary Ward, you will understand what happened to her and why and why she wanted this information withheld for one reason only…her husbands "family" connections in NKCPD, judges and of course her father in law who knows everyone in NKC .
Now North Kansas City School District and it's President 🙂 and Mary Ward … 
Dr. Terry Ward – President Of North Kansas City School District That Hires Pedophiles, Rapists, and Sodomites Who Abuse Students

Term expires April 2019
4307 N. Holly Court
Kansas City Missouri 64116
Send email
(MSBA Delegate, Audit Committee, City Council Rep-North Kansas City, City Council Rep-Kansas City, Legislative Committee Chair, Telecommunication / Technology Committee, TIF Commission-Gladstone, TIF Commission-Kansas City, TIF Commission-North Kansas City and Strategic Planning)
This is her pedophile enabling "father in law"… the father of her husband Jason.. Dr. Terry Ward who is the President  of the North Kansas City School District which knowingly hires child molesters and sodomites who rape, sodomize and sexually molest students while ignoring the concerns of parents.
Links to stories about NKC pedophile infested school district under the leadership of Dr. Terry Ward…Mary Ward's father in law 🙂

http://www.kansascity.com/news/local/crime/article145099304.html
Former NKC district middle school teacher pleads guilty to sodomy
Former NKC district middle school teacher charged with rape, child molestation
http://www.kshb.com/news/local-news/father-files-indictment-against-north-kansas-city-schools-after-daughter-raped-by-teacher
http://www.kctv5.com/story/32825321/oak-park-hs-band-director-out-after-allegations-of-inappropriate-communications-with-former-student
where she shares the below 🙂 using a man who is friends of and likes both pedoophiles rapists and murderers named Bill Bunting!