John Trudell is the "co-founder" of the American Indian Movement, a documented collection of "Pretendians" who's personal and collective history include the rape and murder of Annie Mae Aquash, First Nations Indigenous woman and mother of 3 from Canada. Trudell by being once upon a time "Mr. AIM" is also directly connected to the brutal murder of Black African American and human being Perry Ray Robinson Jr. by Dennis Banks, Clyde and Vern Bellecourt, Russel Means, Carter Camp, David Hill among other AIM notables which were at Wounded Knee when Robinson a husband and father of 3 was shot and allowed to bleed to death.
Both Aquash and Robinson were murdered in South Dakota on the Pine Ridge Indian Reservation where the American Indian Movement began to derail, subvert, and destroy any and all possibilities of the realities of reservation suffering and corruption by tribal government officials being made public in a humane and civilized way. Instead their unbridled and FBI-State/Federal Government sanctioned (using inside "operatives"} displays of violence closed those very doors where those on the inside of the FBI and Bureau of Indian Affairs were protecting and were in the "money bed" with. The collateral damage of this successful strategy was the heinous rape and murder of Annie Mae and the merciless murder of Ray with the guilty on the "inside" remaining free and untainted to this day.
Trudell, the "coyote poop poet" and "masturbation mouth" self glorifying legend in his own mind was in the know of everything happening to and what did happen to Annie Mae In fact, Trudell, Banks, and Leonard Peltier agreed together to "snuff" her while at the same time she had made the fatal mistake of believing this glorified and worshiped by stupid dumb as a rock White women (and "wannabe Indians") would cover her back and vindicate her from the FBI operative generated lies and "jacketing of her" with by the very members of the group of she chose to be a member of and trusted.
When she witnessed in the hearing out of the mouth of murderer, pedophile raping ("I like 13 year olds") and infamous "gag a maggot" folk hero Leonard Peltier that he in fact murdered in cold blood at the Jumping Bull property on Pine Ridge two FBI agents, it was then and there began a campaign by Peltier, Dennis Banks, Clyde and Vern Bellecourt and with Trudells complicity (SILENCE) to target her as a "snitch" using the lies generated by the best "fudge buddy" of Banks, Doug Durham who later admitted working for the FBI and thus was the protagonist of preparing the way for the rape and murder of Annie Mae.
This is why when Annie Mae told FBI agent and sodomite David Price where to "stick it" when asking her about Peltier, and his response was that he would make sure she would be dead in a year knowing that his punk ass agent provocateur Durham would do what was necessary to get that "inside job' done and sure enough… she ended up dead.
Peltier (who's daughter Marquita I would bring from Pine Ridge to her embezzling $'s daddy's office in Lawrence KS) would later put a gun in her mouth threatening to kill her if she was a "snitch" to his confession in front of her (among other AIM crimes) of his murdering in cold blood the two FBI agents! No wonder he deserves to rot in jail and burn in hell where there already is residing now his brothers starting with gang rapist Russell Means, Carter Camp, and one of the Bellecourt brothers…the sodomite if I remember right.
No matter because one of the Bellecourt's or both gave the order to "assassinate" Annie Mae. Their "hit men" took her to Wanblee SD on the Pine Ridge Reservation and while she was praying…BANG…THEY PUT A BULLET IN THE BACK OF HER HEAD… which unfortunately did not immediately kill her. So the American Indian Movement WARRIOR OF THE MOMENT then pushed her off the cliff into a ravine to slowly bleed and freeze to death. Yes, Trudell the great "Pretendian" knew "then" and knows now all of this and this animated by Satan puke said nothing then and says nothing now.
Trudell as Annie Mae's "Warrior Brother" and present day emasculated fake Indian of so called "Santee Sioux" blood, would listen to Annie when she called him in fear for her life pretending…say INTENTIONALLY LYING TO HER that he cared about her safety and welfare. He even received a discussed between the both of them ahead of time "cry for help" in the form of a letter and ring from her which he knew indicated just how bad the threats were becoming…say "life threatening". As if he was surprised this great American Indian Warrior as my wife calls him!
Again it should not be surprising to me or should it be to anyone when this "American Indian Intellectual diarrhea of the mouth" leader/co-founder of the American Indian BOWEL Movement all of a sudden had a "stinky out of his butt brain fart" when asked while on the stand during the murder trial of those who raped and killed his "sister"Annie Mae if he still had that letter. Warrior John of course came clean and said "no, it burnt in the fire", ironically in the fire that burned to death his wife and 4 children.
It should also be noted that in the transcripts the "interrogator" of Trudell during the trial did NOT ask him if he read the letter let alone what was in it…say "staged prepared by government ahead of time cover-up" testimony to save John's "coyote poop on himself" stinky ass for his silence while protecting their complicity in what happened to Annie Mae and by ALL who were involved including the FBI!
Say KARMA Trudell. If you had no compassion or was "Warrior" enough to defend a mother of three from being raped and murdered by your "owned by the devil brothers" and would to this day protect the murderers of Ray Robinson, a father of 3 and whose body YOU STILL HIDE in your denials, then you should not have been surprised with your intellectual genius that the Creator chose NOT to protect "YOURS"!
Now let's head to the "back of the American Indian Movement Bus" and here we find Perry Ray Robinson who was treated by AIM like the KKK treated him in Alabama…as a NIGGER! AIM didn't lynch this "human being" as he called himself (when filling out government/job forms instead of using the racial term Black). They just put a bullet in his leg and let him bleed out in a closet…denying him any medical help from 1-3 White Viet Nam era nurses (who also mysteriously vanished into thin air no where to be seen or "found" again).
To this day Ray's wife and his 3 children simply want his body to be returned home. Hey TRUDELL…can you read through those so cool looking "blood stained glasses" of yours?
Ray came to Wounded Knee to share the peaceful and working "street strategy" of non violence that produced the kind of political results needed to bring national attention to the injustices he and "his people" had suffered when growing up in the South and at the hands of the same "KKK"/Free Masonic fraternity of brothers that ran South Dakota. (Did you know the KKK was founded by Free Masons and that the Mt. Rushmore carver was a Grand Dragon of the KKK?)
Ray was a active man for and with Martin Luther King's non-violent agenda which he believed would help American Indians and he believed if the injustices they were suffering were presented in a "peaceful way" after the proven and workable pattern of the "Civil Rights Movement" that that would in turn generate the sympathy and needed action for the blessing and benefit of the grass roots Oyate poor Lakota suffering on Pine Ridge and throughout all of "Indian Country".
WHOOPS… fatal mistake on Ray's part. The drugged, drinking, pedophile infested and raping collection of "FAKE" American Indians labeling themselves as "saviors" of "Indian Country" would have none of that in their demented, distorted, and "under the influence of" minds. This "nigger" was a pain in their ass and they decided to figure out a way to "off him" and they did.
Coyote Trudell was in the know then about Ray's murder and in "infinite detail" including where his body was buried then and is buried today right now at this moment in Wounded Knee South Dakota along with Fake Indian Extraordinaire Dennis Banks who with one remaining "Siamese Sicko Twins" (linked at the penis) Bellecourt brothers and which Trudell was forever in communications with. NOTHING slipped by Trudell with his "RED MAN" brain power and NOTHING would ever be forgotten either.
In fact, to experience Trudel's "artistic and intellectual genius" all one has to do is listen to his endless regurgitated redundant diversionary collection of "Legend In His Own Mind" CD's i.e. "Consummate Denial "grass fed hallucinations" to realize they are nothing more and for sure less then the anal gestures and sound bites of one who is "coyote coward" running away from his part and responsibility in the rape and murder of Annie Mae Aquash and the murder of "Human Being" and Black man Perry Ray Robinson.
I would venture to say that if anyone were to do a "blood lineage" search on Trudell, I am convinced you would discover he is directly connected to those "Red Judas's" who were personally responsible for the murders and/or assassinations of Crazy Horse and Sitting Bull… in fact spiritually speaking and in my most humble opinion given Trudell's personal history of bravery, I fully believe this "Dances with Coyote's  Red Man of the Century would of been one of the sell outs then even even as he has been for Annie and Ray now which of course means that he will be with the "killers and murderers" of Crazy Horse and Sitting Bull upon entering the "spirit world".
Hey Trudell…question for you? Just how good is your hearing? "tick tock tick tock tick tock….
And John Boy…whoops…sorry again…just how does it feel to be sooooooooooooooo LOVED by brain dead White and Red women who had not a clue about who you really were then and are now…until that is they read this?!
This commentary is dedicated to my most admired American Indian Warrior Woman Annie Mae Aquash and Real Warrior and Brother Perry Ray Robinson Jr.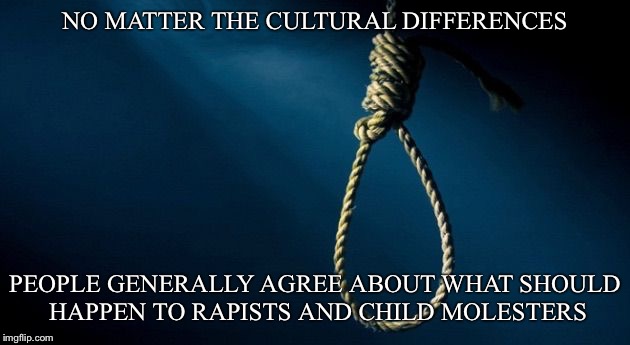 Hang His Ass!
This post is dedicated to Bill Bunting fellow rapist and proud admirer of his "brother" Bill Cosby!
Bill Bunting the self proclaimed REAL MAN and Proud Confederate" can be reached at 706-536-8296
BILL COSBY WAS for decades the poster boy for racial equality and harmony. Wise, funny, clever, and with good family values, he was the nation's funny man whose humor crossed those terrible "racial lines." He was the charming, harmless "Jello man." He was the exponent of maturity and morality as the eminent Black physician and down-to-earth father on the "Cosby Show." He was the suave, stylish, and sexy secret agent in TV's "I Spy." Especially endearing to Whites and the better class of American Blacks, he was a public critic of Black ignorance and bad behavior. He was promoted in the controlled media as "America's Dad."
But, in a behavioral and psychological parallel to genetic "regression to the mean," Bill Cosby was a rapist — according to no fewer than 15 women who have come forward, many of whom have nothing to gain by the accusation. Based on the preponderance of the evidence, its massive quantity, and its revelation of a pattern of behavior that lasted for many decades, I believe what these women are saying. What I say today is based on my personal evaluation of their stories. They say that Bill Cosby not only raped them, but drugged them so they could not resist. And his targets were almost exclusively White women. None of the major media are saying a word about that fact, though it is undeniable. The motivation for these crimes is also a taboo topic.
"He Drugged and Raped Me" When she was just 17, Barbara Bowman says she came face-to-face with the real Bill Cosby. She says "Cosby won my trust as a 17-year-old aspiring actress in 1985, brainwashed me into viewing him as a father figure, and then assaulted me multiple times. In one case, I blacked out after having dinner and one glass of wine at his New York City brownstone, where he had offered to mentor me and discuss the entertainment industry. When I came to, I was in my panties and a man's t-shirt, and Cosby was looming over me. I'm certain now that he drugged and raped me…. The final incident was in Atlantic City, where we had traveled for an industry event. I was staying in a separate bedroom of Cosby's hotel suite, but he pinned me down in his own bed while I screamed for help. I'll never forget the clinking of his belt buckle as he struggled to pull his pants off."
In another incident, Bowman woke up from a drug-induced haze to find herself naked and bent over in a hotel room bathroom with Cosby partially clothed and towering behind her. Bowman said that Bill Cosby knew she didn't have a father — and he used that fact to manipulate her emotions. "By the time I was drugged and raped by him in New York, he'd already broken me down, brainwashed me and made me feel like there was something wrong with me if I resisted his sexual advances. Bill would say that he needed to guide me, and that I must trust him… I was drugged and raped by that man. He is a monster. He came at me like a monster…. Bill used to tell me that he was my father figure and that I needed to trust him as a father, 100 per cent. Then he'd drug me and attack me. I was too afraid to talk back."
Former actress, music industry publicist and journalist Joan Tarshis recently stated:"I was 19 years old in autumn of 1969. I had flown to Los Angeles from New York to work on a monologue with Godfrey Cambridge. [Another Black comedian] …Cosby seemed to take a liking to me, and so I was invited back a few times. I was naturally flattered. I visited the set on my own and he once introduced me to Sidney Poitier as 'Midget,' his pet name for me because I was 5'3″. "One day he asked me to stay after the shooting and work on some material with him. I was even more flattered and thought this would help move my writing career along. In his bungalow he made me a redeye [an alcoholic drink]… The next thing I remember was coming to on his couch while being undressed. Through the haze I thought I was being clever when I told him I had an infection and he would catch it and his wife would know he had sex with someone. But he just found another orifice to use…."
Young Miss Tarshis was intimidated and shamed into telling no one and was pressured into seeing Cosby again. "He sent a limo to pick me up and I was dropped off at the Sherry Netherland Hotel and went up to his suite. I remember noticing that his leather shaving kit was filled with bottles of pills, and thinking that this seemed odd. …He made me a redeye…" They went to a theatre to see one of his performances. "[S]oon after, I remember feeling very, very stoned and asking his chauffeur to take me back to the car. I was having trouble standing up. The next thing I remember was waking up in his bed back at the Sherry, naked." "It took me about 20 years to admit this to anyone…. But during those years as I grew into adulthood, I watched Cosby be praised by everyone from Presidents to Oprah to the Jello Corporation. It all made me ill…" "I Remember a Lot of Pain"
Former model Janice Dickinson says that Bill Cosby sexually assaulted her in 1982: At a dinner in Lake Tahoe, Cosby gave her a "pill and one glass of red wine." Cosby told her that the pill was to help her with some cramps and stomach pain she was experiencing. "The next morning I woke up, and I wasn't wearing my pajamas, and I remember before I passed out that I had been sexually assaulted by this man… Before I woke up in the morning, the last thing I remember was Bill Cosby in a patchwork robe, dropping his robe and getting on top of me. And I remember a lot of pain. The next morning I remember waking up with my pajamas off and there was semen in between my legs."
Dickinson's is the latest of 15 separate allegations of rape and abuse leveled at Cosby by White women. Andrea Constand filed a lawsuit against Cosby in 2004. The details of her story — "helping with her career"; drugging; then interracial rape — match the pattern of the others very closely. Constand's lawyers managed to find an amazing eleven more women who agreed to testify that Bill Cosby had sexually assaulted them — and remember, those eleven are merely the ones who dared to come forward and speak in open court. Unfortunately, Constand was paid off by the wealthy Cosby and the case never went to trial.
It's Cold Medicine, Take It
Tamara Green, an attorney and former fashion model says that Bill Cosby drugged and forced himself on her. She was hired by Cosby to "help him open" a private Los Angeles nightclub, even though her only experience was doing cosmetic and Coca-Cola commercials. When she told him she had the flu one day, he persuaded her to come to lunch with him anyway. Cosby told the young, impressionable woman to take two pills he handed her, which he said were the cold medicine Contac. She states: "I sat down, and he gave me what he said was two pills of [an over-the-counter cold medicine]. I swallowed them, and 20 minutes later I felt terrific; 30 minutes later, I was face-down in my soup. He volunteered to take me home. And then, because I was so ill, he volunteered to undress me and put me to bed." Cosby then sexually assaulted her, but she fought back. "I started fighting him — I took a lamp and broke a window." Green added that a young woman she knew, Page Young, was also raped by Cosby — and Young was so distraught over her drugging-rape at his hands that she was driven to kill herself.
Long-Standing Pattern
Given this pattern of behavior, repeated again and again — young White woman / offer to mentor or help her career / drugging / and rape while unconscious — it's very likely that what we have heard so far is just the tip of the iceberg. What actually goes on in very Jewish, very pro-racemixing Hollywood is probably much worse than we can even imagine. It's a very good thing for White people that "family values" interracial assimilationist icon Cosby has been outed and shown for what he really is. Every time something like this happens, a few thousand more people stop believing in the machinery of illusion and start looking for answers — start looking for the National Alliance.
In a live comedy album he released in1969, with a title ("It's True! It's True!") that he probably wishes he hadn't chosen, Cosby talks, laughs, and smirks about using a drug to get women to have sex with him. He starts out saying he heard about it when he was 13, but quickly switches to an anecdote showing he was still interested in obtaining the drug, "Spanish Fly," as an adult while he was starring in "I Spy." From the context it's clear that the women he wants to drug are White European Spanish women.
Hearing this monster giggling while he gets his mostly-White audience to laugh along with him at the "fun" idea of stripping women of their ability to say "no" is a sickening experience. Even at the age of 12 or 13 when I first heard this routine on an LP record at a friend's house, I knew there was something profoundly sick about this man. Do a simple search on YouTube for "Bill Cosby" and "Spanish Fly" will find it.
"The Story Went Nowhere"
Journalist Mark Ebner states that he had enough information in 2007 to "take Cosby down," but the media bosses refused to publish his story because Cosby was such an icon of "civil rights" — that is to say, exposing his abuse and drugging and rape of White women would hurt the racial mixing propaganda narrative those same media were promoting: "Even more than Woody Allen, Bill Cosby was a beloved figure and civil-rights pioneer; hardened editors were horrified at the prospect of taking him down. I might as well have pitched a story about Martin Luther King, Jr. philandering with white women. The story went nowhere."
Well, Mr. Ebner, thank you for a very revealing insight — but the truth is, MLK did philander (and worse) with White women, but the media blackout on that is still in force. It's only because Hannibal Buress, a Black comedian who resents Cosby for his anti-ghetto-culture assimilationist position, brought up the rapes, that the story gained any traction in the media at all. Women's activists bemoan the fact that the media only took the rape and assault stories seriously after "a man" brought them up, but they themselves fail to note that it was a Black man. Men, even published male writers, who weren't Black — and the more than a dozen White women who were brave enough to go public with their stories — have been trying for years, in some cases decades, to get this story to the public.
But it wasn't permitted — until uncensorable social media went viral with it after Buress's stand-up routine. Then they couldn't ignore the story they'd been ignoring for years anymore. They were forced, reluctantly, to take down their false idol — or lose all credibility. Make no mistake about it — the media bosses, who are almost all Jews, don't like any story that might make White people realize they're being harmed, being dispossessed, and being literally and figuratively raped by a power structure that is determined to exterminate them.
So we see horrific torture-rapes and killings with White victims and non-White perpetrators — and the media carefully fail to mention, until forced by circumstances to do so, the race of the victims or the attackers or both. We see cases with Black victims, like Michael Brown's and Rodney King's, turned into worldwide sensations, triggering a public outrage so strong that a near-insurrection results — but cases of brutal savagery against Whites are carefully kept local, and reported as little as possible, and as sanitized as possible, in the national news.
The real motivation for Cosby's crimes is a totally taboo topic in the Jewish-controlled media. Think about it: Did Bill Cosby really have to drug and rape anyone to have sex? No. He was married to a cultured and shapely mulatto woman all through the period when these rapes took place, and she bore him children. And this was Hollywood in the anything-goes era of the Sexual Revolution. There were surely any number of ambitious starlets and high-price harlots of all races who would have given rich, famous Bill Cosby all the sex he could handle and more. And I don't doubt he took advantage of that degeneracy. But sex with a willing White woman was apparently not enough for Bill Cosby.
If these accounts are true, and I believe they are, he wanted to rape White women, not just sexually possess them. He wanted to violate them against their will. Some of his victims describe times when they did remember his approaches to them and the sick intercourse he forced on them: One White woman was pinned to the bed by Cosby's forearm — another was grabbed around the neck — another was forced to masturbate him — another, waiting in her dressing room just before an appearance on the Tonight show, had her head pushed into Cosby's groin and his genitals into her mouth and forced to give him oral sex.
And who knows how many women there were who have not yet come forward? Who knows what else happened while they were unconscious? All White women. All manipulated or forced or drugged. All taken against their will. Taken against their will because that's the way Bill Cosby wanted it. It was exactly the way Bill Cosby wanted it. Journalist Greg Kay tells us: "It is often argued that rape is not a sex crime, but a crime of violence or of power and control. However, interracial rape, while it encompasses all such motivations, is something more.
Black-on-White rape is usually a violent political act – a form of terrorism – the ultimate statement of the Black Power Movement that has disguised itself under an innocuous-sounding banner called 'civil rights.' …being able to 'take' the woman or women of someone else and use the same for one's own gratification …is the ultimate statement of superiority; and the utmost denigration of the male or group to whom the woman in question belongs, as well as the woman herself. That act demonstrates not only to the victim, but also to the kin of both the raped and the rapist, that the rapist has power."
The Black writer (and darling of many a Jewish college professor) Eldridge Cleaver admitted as much: "Rape was an insurrectionary act. It delighted me that I was defying and trampling upon the White man's law, upon his system of values, and that I was defiling his women – and this point, I believe, was the most satisfying to me because I was very resentful. I was getting revenge." There's many a Bill Cosby and Eldridge Cleaver on the basketball courts of rapidly-browning America, I believe. The Big Picture Putting two different subspecies of the same species together in a confined area is usually fatal to one or the other or both.
That's what is being done to us in America and in Europe. Every White country currently under the control of the Jewish oligarchs is subject to the multiracial "experiment" — Mestizos, Arabs, Blacks and others are flooding across our borders, swelling their numbers, and being encouraged to mix and/or get their revenge upon us. Who opened the borders? Who commands the film and multimedia empires which glorify non-White males as partners for White females?
The same tribe that elevated Bill Cosby to star status, groomed and used him to promote their racial-mixing agenda, and empowered him to rape with impunity for almost 50 years, that's who Sheldon Leonard is the man who decided that Americans "needed" a Black/White team to star in their next adventure show — and chose Cosby for the "I Spy" spot. Leonard carefully crafted an image of Cosby that would be acceptable to White viewers in general and attractive to White women. Cosby even described Leonard as "my last father," a man who had made him what he is today. Ed Weinberger was the lead creator of "The Cosby Show" and the brains behind the idea of re-shaping Americans' attitudes towards Blacks, encouraging "integration" by portraying a Black family exemplifying all the virtues of middle class White Americans.
Both Leonard and Weinberger are Jews. Bill Cosby is just the latest example of what is really a war on White women — and on all Whites — that is pursued through every possible avenue of defilement, denigration, and destruction — including interracial rape. It is a statistical fact that "Black males rape White women more often than they rape Black women, and Blacks overall rape at a rate between 4.4 and 11 times higher than Whites. And Blacks commit interracial rape at a rate at least 70 times that of Whites. It's all there in the official statistics — statistics that, for some reason, never seem to be in the headlines or nightly news stories on the Jewish-controlled media, despite the fact that tens of thousands of White women at least are victims every year."
What value system can we give the next generation that will allow us to survive this onslaught? What moral code can we teach our children that will prevent them from being the next victims? The feminists and the System and even the churches just tell us that young women (they would almost never say "young White women") need to be "more careful" or that "men" (they would almost never say "Black men") "need to stop raping."
Safety courses and having young White men falsely told that they're part of a "rape culture" is going to do less than nothing. We need to teach our children that they are part of something greater than themselves; that their race has an unlimited destiny of greatness and that everything we do is a part of that; that the worst sin of all sins is to defile their genetic inheritance through racial mixing; that White men must stand up for and protect their infinitely precious women from the depredations of aliens; and that White women must understand that their most sacred purpose is to pass on our gene-patterns undimmed into the future.
In a society imbued with values such as these, the monstrous Bill Cosby and his ilk would not be permitted within our borders, not within a thousand miles of any White girl or woman. And his handlers and creators and enablers would not be allowed to exist.
Genocide of Native Americans by Suicide As Spiritually Understood
The Deception of Self-Murder As Inspired By The Deceiver and Liar and Murderer From The Beginning…SATAN!
"I'm sorry, I'm sorry…I didn't mean to do it…."
 FOREWORD: There are more suicides by American Indian Youth per capita then among any other ethnic group in America. This article I wrote being inspired by God to do so was for the purpose of both exposing the "spiritual understandings" connected to suicide as well as offering a "spiritual of God" solution.
During a two week period in the month of July and August 08, 2010, there were 4 suicides in the community of Oglala on the Pine Ridge Indian Reservation. Overall…suicides are on a RISE throughout the Reservation.
This was a email received (12/9/09) concerning the week of (12/2-12/9) from a member of the Rosebud Sioux Tribe. A State of Emergency was declared on the Rosebud Sioux Tribe reservation in 3/07 because of the increase in suicides and attempted suicides. There were 61 attempts from Jan 1-07 to March 12-07  
"Hey we had another suicide you probably heard about last week, also 4 attempted this past weekend, the youngest being 14 year old male, who tried to hang himself but was caught, one cut their wrist, one overdosed, the last just happened last night, didn't get the info on how they tried. I now am hearing that the kids today are thinking "It's the in thing to do"…on some of their bebo pages they brag about…if their going to go out, "their going to go out to suicide, end their own chit". I'm in total disbelief right now, this is a emergency situation. I think what's needed to be done to try to combat the situation is change their perception of thinking, shove it down their throats, Suicide is evil, something is messed up here. – Anthony Bordeaux Jr. is a Sicangu Lakota and member of the Rosebud Sioux Tribe. 
 Journey To The Spirit World By Suicide
Buddy Red Bow, a traditional Oglala Lakota singer wrote a song entitled "Journey to the Spirit World", a song about "getting ready" to pass over into the "Spirit World" and into a life of joy and not like the one here. "The Ghost Dance" was and is a prayer expressing the visionary hope and promise of a better life before and after death because the "Red Messiah" who's name is "Wanikiya" (Jesus in Lakota) will return to deliver His people from all that is not of Him in this life. He will raise from the dead those of our relatives that have passed into the Spirit World and we all shall be together again. Traditional Lakota and most other Native American beliefs say our spirit enters into the Spirit World upon the death of our body. Once there, it is our hope and the promise of the Messiah, even Jesus Christ, to be in His presence where we will experience the healing of our hearts, be with our loved ones and relations, and where all suffering and pain is no more forever.
There are many reasons for the death of the body. Some natural such as old age with the body simply wearing out like an old moccasin. Other things contribute to the death of our body such as cancer, diabetes, and heart disease and in Indian Country, they are primary killers. Then there are the drug and alcohol death destroying affects on our body, on our brain, heart, liver, and kidneys.
These same drugs and alcohol also allow for "spirit-heart changers" (evil spirits or demons) to overthrow our souls. These evil spirits inspire first thoughts and then the behaviors that hurt and kill as evidenced in rape, abuse, fights, beatings, shootings, stabbings, child molestations, and alcohol connected car wrecks as seen throughout "Indian Country". These dark spirits work both in us and outside of us through others. They contribute to the destruction of marriages, families, young and old alike. Alcohol is the preferred beverage of the devil and his angels (demons/evil spirits) and is his "death drink" that is used by him to inspire evil Non-Lakota/Non Native American behaviors found among us. Drugs are also used, both illegal and "legal".
Then there is the death that is different from all others. It is death by self-murder which we call Suicide. Suicide is when we make a choice to "kill ourselves". We do this because we believe that we will be delivered from all that troubles us here in this life. We are "evil spirit/demon led" to believe this lie. Otherwise we would not attempt to kill ourselves. Native American spirituality does not allow for, inspire, or give examples of suicide as being the will of Tunkasila the Creator…our God.
It is important to understand that suicide is ONLY the killing of ones body. The spirit inside of the body never dies. Only the body dies when we kill ourselves. When the body dies, the spirit continues to live as it immediately leaves the body and enters into the "Spirit World". After your spirit leaves your body, you find yourself awake then even as you are now in reading these words.
All the feelings, thoughts, and experiences that lead to suicide first begin with a "spiritual thought" that is next acted out through our flesh in the act of killing ourselves.  Before we "kill our body", we are FIRST "spiritually attacked" in our heart and mind by the evil spirits who give us the "excuse or reasons" to kill ourselves. The ONLY goal of "evil spirits/demons" is to "convince us" that there is no other choice in life but to kill ourselves and that suicide is our only escape from the pain we are suffering here. It should be noted, that the very same demons/spirits that put the reasons in our mind to "kill ourselves" also are responsible for helping create the real life experiences which hurt us.
One of the most used "excuse or reason" put into our heart and mind to murder ourselves is when our heart is betrayed by the one we love, who we find with another. Boyfriend, girlfriend, husband or wife, THIS betrayal of our heart has been said to be the same as death itself for THIS pain is not measurable in words. It is then we begin to experience the thoughts of suicide and we "feel like dying" and this is because the "demons/evil spirits" KNOW that we are now at our weakest. It is also then THEN that the "demons/evil spirits" put the thought into our mind that "killing ourselves" is THE ANSWER for us to escape this pain and to "hurt those that hurt us" because they "broke our heart" when they betrayed us.
Other times of when we are weak spiritually is when we lose a loved one to an untimely death where they die from cancer, an accident, or when a close relative, loved one, boyfriend or close friend, kill themselves. All of these experiences cause spiritual pain to our heart and mind. If we do not understand the promise of the Jesus Christ that we shall be reunited together in the spirit world when we pass over, we find ourselves in our weakest state of mind and then are more easily influenced by the "demonic spirits" who put thoughts in our mind for us to kill ourselves.
How cunning are these evil spirits? Think about this. Not only do they try to get you/us to kill ourselves but they also were the spiritual source of the lusts, thoughts, and feelings and actions on the part of those that chose to betray our love and hurt us! It is the same even when we lose a loved one. They try to use any loss to tempt us with the thought that maybe we now should kill ourselves.
There are other reasons "put into our hearts and minds" to kill ourselves as found in the "memories" of parents, husband or wife, boyfriend or girlfriend never being sober, who drink themselves into total unawareness of us. Children especially suffer because it is they who need most the love and affection of their parents but receive none. Some suffer from beatings and sexual abuse and have nowhere to go or no one to turn to or trust. Young children kill themselves to escape the "hell of home".
The daily experiences on the majority of reservations are a constant reminder of the past and present oppression. No jobs, houses that are falling apart with no way to fix them, no money for food and bills, to buy things needed for children and babies and the list goes on leaving us with no hope for things to get better. It is this feeling of hopelessness that also pulls us into the dark pit of despair. It is then we are tempted to believe the LIE given to us by evil spirits that death by suicide will deliver us from our pain and suffering and be our "Savior".
The harsh, oppressive, and inhuman realities of reservation life are NOT an accident. They are made by those who followed the "intelligence" of the same evil spirit who is trying to convince us to kill our self. That spirit is called the "devil". Think about this. What is the solution he offers you for things to change? Say "get drunk or high" or WORSE , "kill yourself" while he IS the one that created the very "reservation reasons" which he then uses to convince you to destroy yourself!
In the beginning of Native American history, it was the Creator (called Tunkasila among the Lakota) who taught us our spirituality. It was not learned from the White man, the "Catholic-Christians", the Pope, Mormons, or any other European source. Our spirituality and teachings do not teach us to hurt, betray, humiliate, defile, disrespect, murder, rape, abuse, or desecrate another soul. The Creator said in all our relationships we should do good to one another and love one another in all areas of our life. We are to be faithful to our wives and husbands. We are to be compassionate, generous, and giving, We are to make sure that there are no poor or hungry among us, no homeless, our elders, women and children are to be loved, respected, and taken care of. That is the will of the Creator Tunkasila and when we follow His spirit in being that way, we are then living on the Red Road and are who we were created to be.
To not live this way is to live and experience the spiritual and physical "death" of the Black Road and is not the way of God. When a soul "listens to and follows the evil spirits of the Black Road, we begin to do things that are hurtful to others and ourselves. See how smart the devil is? Of course, while he is doing this, he whispers in our ears "there is no devil…I am no devil".
A man wrote about an experience he had in the Spirit World. He was shown how evil spirits enter our mind and influence us. While in a hospital and very sick, he suddenly "died" on the operating table and was "dead" for 8 minutes. During this time, he began to experience his spirit leaving his body. The next thing he realized and understood was that he was in the presence and company of one who identified himself as Jesus Christ. It was during this experience with Jesus that he witnessed two most important scenes.
The first one was when he was taken to to a scene where he saw a young man sitting down next to his father and saying "Pops Pops…I am sorry … please tell mom I am sorry…" begging his father to tell his mother over and over again. The problem was, his father could not hear him cry out in this pain and agony. Another scene he saw a young girl crying out to her boyfriend…to forgive her and that she was sorry for what she had done. Again, she could not be heard.
What Jesus revealed was this. He told the man who was with him that "These are those that committed suicide and this was the consequence of their act"!! How powerful and yet sad. They did not know that when they killed themselves that this was what they would be experiencing in the "Spirit World" and having to confront. There is more about this understanding in this writing down below.
The next experience Jesus showed this man was when he was taken into a bar and allowed to witness a scene where he saw many men who were heavily drinking. He also noticed that their were other "spirit bodies" there who were trying to drink the same drink but they were unable. These "spirits without bodies" were trying to grab a drink of alcohol. Each time they tried to grab a drink, their hand passed through the glass. The man then realized the "others" trying to drink were "spirits" of those who had died and were in the Spirit World in this same "need to drink" but could not. In this condition. In the spirit world, they found themselves still craving and wanting to drink but without a "body of flesh", they could not. This was their torment…to want to drink but to never ever experience again and this was their "eternal condition" in the Spirit World. A word for this is called "hell".
Then Jesus was directed this man to observe a man who passed out from drinking heavily and fell on the floor. All of a sudden, he was shocked to see this man's forehead open up a "spiritual hole" in the front of his forehead. All of a sudden, one of the "spirits" that had died and had no body, the one that was trying to drink his drink, IMMEDIATELY entered into him through that opening in his forehead like a flash of lightening.
This experience shows how alcohol and drugs are the "door openers" for demons/evil spirits to enter our hearts and minds. Once "inside of us", they can then more easily influence our thoughts, feelings, and then our actions. It is when one drinks alcohol and or is doing drugs, that anger, rage, hate, beatings, abuse, rapes, killings etc, take place because they are "evil spirit" inspired. Sometimes one remembers what they do when under the influence of EVIL SPIRITS other times no.
It needs to be understood that the most EVIL of acts we commit are inspired by those "spirits" caste out of Heaven with Lucifer who is Satan the Devil. They are here on earth without bodies. They work is to change our hearts and thinking so that we do the most evil things to one another and ourselves. They are the spirits that convince us to kill ourselves!
So we now we see how these spirits get us to KILL OURSELVES through use of alcohol and drugs. Once they have place in our hearts and minds, they are then able to become one with our thinking and are then more easily able to convince us that "their thoughts" are OURS. They work to get us to believe the LIES they put in our mind that there is only ONE WAY to stop all of our pain, to end the memories of suffering. Finally, they are able to overcome our will power and thinking so that then we cannot tell their thinking from ours. They are so good at what they do, that we are now thinking their thoughts to the point we do not know this. This is how the devil uses alcohol and drugs with their goal being to convince us to KILL OURSELVES. When we believe their lie because they are now in control of our spirit and body…all of our thoughts and feelings and we no longer are aware of this.
This is why alcohol is the preferred beverage of Satan. Alcohol and drugs are more times then not, directly connected to "self-murder". Remember, that it was the European who first offered alcohol and continues to do so now. Therefore, understand who the Oppressor represents in both this life and eternity. Say Satan who has his regional headquarters in White Clay!
The following story is a powerful, sad, and painful one. During a traditional Lakota wiping of tears ceremony during a sweat, Elder's Beatrice Whiting, member of the Crow Creek Sioux Tribe and her husband Ed, member of the Rosebud Sioux Tribe, had a revealing and powerful experience "FROM the spirit world". It came in the form of a young Lakota woman who committed suicide at the age of 17.
While they were singing and praying during their sweat, a light began to appear before them. As it increased in size, they began to see the face of this young woman they new. Her name was Darliss Brown, a member of the Crow Creek Sioux Tribe. Darliss was the daughter of Darla Rabbit and was a past student of Beatrice. Darliss had committed suicide two weeks before. Why? Because her heart was betrayed when she found her boyfriend with another girl. Darliss was also carrying "their" child.
The spirit of Darliss was weeping and cried out saying "I am sorry, I am sorry, I didn't mean to do it". Beatrice saw her suffering and saw that Darliss NOW realized the consequences of her self-murder. In the spirit world, Jesus allowed Darliss to experience and feel in her heart and mind every single emotion of pain and sorrow of those that loved her as if it was her own. As a result, she suffered "with them" because of what she did. She wept as they wept and mourned as they mourned over her death when they found out, at the wake, the funeral, and in the private places of weeping and wailing where no one saw them except her!
Darliss saw the hurt she caused her mother, nephews, nieces, aunts, uncles, friends and relatives. This was the consequence of her self-murder. No escape, no joy, no deliverance from THIS pain and suffering. This was the consequence of her being "deceived" to kill herself.  She was so sorry she HURT THEM THAT MUCH and had she known, she would never have killed herself.
One has to ask when you are being given thoughts by demons/evil spirits to kill yourself, do YOU want to hurt those who love you THAT MUCH? Darliss had been deceived into killing herself and was sorry but ONLY after her spirit left her body and entered into the spirit world. There her awareness was immediate and it was there that Jesus allowed her to understand that suicide was "demon/evil spirit inspired/alcohol/drug connected" and that she believed the lie of the devil and his evil spirits that they put into her mind. We now see how alcohol was the door opener for these evil spirits to enter into her body, heart, and mind…even her soul.
On November 25th of 0/7, four years after Darliss killed herself, Jesus allowed her mother to receive a visit from her daughter. Darliss came to her mother from the "spirit world" and into "time". Darla was in her bedroom lying on her bed. She was holding a photo of Darliss and still grieving and weeping for her and still feeling the pain of missing her in her heart. All of a sudden, she felt a cool breeze in the room. At that moment, Darliss appeared before her in spirit and spoke to her in comforting words, "Mom, it's all right, it's all right". Darla felt the love of her daughter for her as she spoke to her and that she was still sorrowful for what she had done as she was still grieving over the pain she had caused her mother and others, four years later.
Few who commit suicide are allowed by Jesus to come back from the "spirit world" to explain or share anything. They only see and witness the suffering of those they hurt. It is like the "two way mirror" in a police movie where you see but are not seen by those on the other side. You weep and wail and cry out for forgiveness and try to explain to them your mistake to all those you loved and who loved you, but it is no use because you can neither be seen or heard. You realize once you are in the "spirit world" that you were deceived by the devil and his evil spirits into believing the LIE that committing suicide was the "right thing or cool thing do" or that all your "troubles" would be over. This was a lie because now you suffer the torment and pain in realizing your act of self-murder cannot be undone. This is and will be your torment…or "hell". Is there an end to this suffering? YES and there is forgiveness but only when Jesus determines you have learned your lesson. Then there is a healing. The question for everyone to ask is, do we want to kill ourselves to experience this?
Cherokee Walking Eagle Kills In Water is a Sicangu Lakota and member of the of the Rosebud Sioux Tribe. She lost her daughter Crystal to suicide. Crystal was a mother of six children. She also was drinking alcohol when she killed herself. She likewise was deceived by "evil spirits" into believing the lie that she could escape the pain that was in her life by committing suicide. Cherokee also had a "spirit world" experience with her daughter Crystal that helped her in her grieving. Three weeks after her daughter's funeral, she had a "real life vision where Crystal appeared to her and started gently rubbing her head. She could feel her touch on her head. Crystal asked her mother "Are you alright"? Cherokee said "Yes, I am alright". She felt Crystals concern for her as well as her sorrow over what she did. Cherokee wept during this visit from her daughter and was thankful that Jesus allowed Crystal to come to her as this helped her heal. When she awoke from the dream, Crystal had gone back to the "spirit world".
Evil spirits will destroy our soul directly or through others using alcohol and drugs which are the tools of the Devil. He is then able to trick us (as the "trickster from hell) into believing the lie of suicide. The truth is suicide only releases our spirit into the spirit world when our body dies and when we arrive there in spirit, which is instantly, we then begin to suffer the consequences of this deception with no place to hide from the witnessing of the pain we cause those that loved us.
So what is the answer and alternative to suicide? It is the restoring of our love for one another as inspired by and demonstrated by Jesus Christ when He once walked among Native Peoples on this land. Crazy Horse was that example, Sitting Bull also was. The Spirit of the Creator manifested in the flesh through Jesus, must be restored in our hearts again. When that happens, no longer will we do or say anything to hurt another and thus we will no longer be used by the devil to be the source of death and destruction of other souls or our own. This also means we no longer use alcohol or do drugs. Until we cease this evil, we will continue suffering as a people individually and as a Nation.
The Black Rap Culture is also a tool of of the devil and his evil spirits. They are working hard to place in the hearts of young Native youth the thoughts, feelings, and actions that are demeaning to young Native men and women, Elders etc. This evil spirit of the THIS BLACK ROAD inspires violence, hate, vengeance, abuse of women, inspires murders and reduces Native sexuality to something disrespectful where women are dishonored, abused, raped, beaten etc. A Native females is not a "bitch" or "ho". She is to be treated with dignity and respect. That is being truly Native. The opposite is the way of the devil. Native men have no excuse to be or do the same and in the spirit world, if they do not stop this behavior while alive, they will suffer the eternal consequences…say hell and deservingly so. In fact, Native men who treat Native women and children this way, will be with those blacks and whites who have done the same to their women as well as Native women.
What does all this mean in "real time'? It means one ceases to do in their life all that you know hurts and harms another including oneself. You do what you must to quit drinking, doing drugs, gambling. You seek out help, go to ceremonies, and pray to your Heavenly Father in the name of Jesus Christ to be given the power to change. It means you go to those you have hurt and tell them you are sorry and ask for their forgiveness and that you forgive those that hurt you. It means to become once again the faithful husband and wife, the mother or father that has been missed and is needed by your children, the relative and friend that was once there and needs to return. It means you forgive yourself even as Jesus has forgiven you. It means you begin to love yourself because you loved by Jesus and that His example of love is the example you were created to also be in your life for that is truly being Native.
It means that while you are here alive in your flesh before you journey to the spirit world, that you make this change while you still can so that you can undo the wrong which you have done to others. It means you no longer allow yourself to be deceived and directed by the evil spirits and be used by them in the destroying of your own people, your women and children, and yourself. Because when that happens, it is to late to love those that are lost even as it is to late to return from the spirit world when you kill yourself because of what others have done to you. It means turning to your Heavenly Father and praying for the strength to do what you must, for Him to heal you of all the pain and suffering you have caused or experienced in your life, because it cannot be done without His power which is His love for you.
This is the way to heal the broken hoop, to break the cycle of oppression and hate experienced and learned from Satan. God is waiting for us to turn to Him and ask for the strength to change in our hearts. He promises to heal us of our pain. That is what the Sun Dance is really about, as shown by the ultimate sacrifice of THE First Sun Dancer, even Jesus, the ultimate gift of healing and love. He is asking us this day to decide which road to take, the Red Road of blessing and healing and which restores our love for Him and one for another or the "Black Road" so many find ourselves on now, the one of evil inspired by the devil himself, the one of cursing, death, and hell, the one destroying us individually and collectively
The choice is laid before us to have restored that which was lost at Wounded Knee on December 28, 1890 in the vision, purpose, and prayer of the Ghost Dance. It is said in our prophecies given to us by Jesus  that the Wasichu (White man) and Oppressor will never change for our good and that is the reason why Turtle Island will be "cleansed" by Him in the judgments soon to come upon this land.
This is why we must pray together to Tunkasila…even Almighty God, in the name of the One who represents all that is Holy, Jesus Christ, to deliver us from those evil spirits represented in the past and present so that the influences and affects of the devil are no more found in our hearts. When this happens, we once again can be called the people of the Almighty God and Jesus Christ and experience the answer of the Ghost Dance in having restored unto us the blessings we once experienced when He was in our midst on this land as His People.
When this happens, we will again be his Holy people, a people of one heart, one mind, dwelling in righteousness with no poor among us. It is because of His Sun Dance that death and hell IS overcome and our bodies and spirits healed and restored one to another. It is because of Jesus Christ that we will experience His promise of all of us being united together not only in the Spirit World but also on this earth!
Footnote
Richard Boyden is available to speak at schools, community centers, church's and (or elsewhere). He is a former instructor at Haskell Indian Nations University and taught "Investigative Journalism-Introduction to Radio Broadcasting", former Marine and combat veteran. He is as an "attempted suicide survivor" who knows from personal experience what the spiritual realities and consequences of suicide are.
He can be reached at 816-599-1388 day or night or email at richardboyden@gmail.com
He has documented information on the suicide connection to anti-depressants on the OMS Web site at www.operationmorningstar.org
Catholic Church Removes Successful Suicide Prevention Radio Program